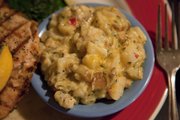 Joannie Grosdidier could eat three servings of Bigg's Barbecue Warm Twice-Baked Potato Salad, if only she'd allow herself.
"It is so good. It's the one thing that I always order, and I never get enough," she says. "I could eat two or three bowls of it, but I'm sure it's very rich and not very good for the diet."
Grosdidier is such a fan of the dish, she contacted the Journal-World to track down the recipe.
"Every barbecue restaurant you go to, you can get beans, potato salad and cole slaw," Grosdidier says. "But, I've never seen warm potato salad on the menu. It's cheesy, buttery, warm and gooey. It tastes just like a twice-baked potato, but it's chunky."
With tailgating season right around the corner, Grosdidier says the dish would be a great alternative for mayonnaise-based salads which can be dangerous in the heat.
"It would hold, and it would go with brats, pork, beef, chicken, anything," she adds.
Doug Holiday, owner of Bigg's, the barbecue purveyor for Memorial Stadium and Allen Fieldhouse, is happy to share the recipe with Go! readers.
"Barbecued beans are the most popular side dish of all," Holiday notes, "but the hot potato salad is in the top three. It is addictive."
Bigg's Warm Twice-Baked Potato Salad
2 1/2 pounds red new potatoes
8 bacon strips, chopped
1 tablespoon fresh thyme, finely chopped, or dried thyme crushed
1/2 cup red onion, small dice
2 celery ribs, small dice
3 garlic cloves, minced
3 tablespoons all-purpose flour
1 quart milk
8 ounces cheddar cheese, shredded
1-2 teaspoons kosher salt, to taste
1 tablespoon black pepper, coarsely ground
Instructions: The night before serving, boil the potatoes (in their jackets) until tender-firm. Check for doneness with a toothpick or wooden skewer. Drain the potatoes well and chill them in the refrigerator overnight.
In a large saucepan or Dutch oven, sauté the chopped bacon and thyme over high heat until the bacon begins to redden around the edges. Add the diced vegetables and garlic and sauté until soft. Add the flour, stirring for 30 seconds. Stir in the milk a cup at a time, allowing the mixture to thicken before adding the next cup. Once all the milk is added and the mixture is thickened, reduce the heat to medium-low. Add the cheese, salt and pepper and stir constantly until the cheese is melted. While the sauce simmers, cut the cooked potatoes into 1/2-inch cubes and add them to the sauce. Simmer briefly until the potatoes are heated throughout. Serves 12.
Copyright 2017 The Lawrence Journal-World. All rights reserved. This material may not be published, broadcast, rewritten or redistributed. We strive to uphold our values for every story published.