A 26-year-old Lawrence man riding a bicycle was taken to the hospital Friday morning after he was struck by a vehicle at 29th and Iowa streets.
Kim Murphree, a Lawrence police spokeswoman, said a 63-year-old woman was driving a Honda Pilot east on 29th Street and preparing to turn south onto Iowa.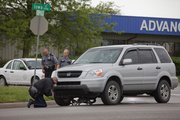 She had stopped at the stop sign, but when she started to turn did not see the man who was riding on the sidewalk with two dogs. The Honda then struck the bicyclist and knocked him down.
He was taken to Lawrence Memorial Hospital. His injuries were not believed to be life-threatening, Murphree said.
The bike is totaled. The dogs were not injured.
Officers cited the Honda driver, who was uninjured, for failing to yield the right-of-way to a pedestrian.
Copyright 2018 The Lawrence Journal-World. All rights reserved. This material may not be published, broadcast, rewritten or redistributed. We strive to uphold our values for every story published.