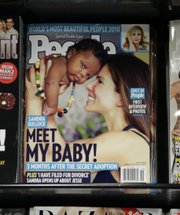 New York — Sandra Bullock is dumping her two-timing husband and welcoming a new guy into her life — a baby boy she is adopting as a single mother.
Divorce papers were filed Friday in Austin, Texas, where the 45-year-old Oscar-winning actress has a home. The impending end of her five-year marriage to Jesse James came as no surprise on the heels of reports that the motorcycle mogul had been cheating on her and that the couple had already separated.
Instead, the bombshell, set off by Bullock in an interview with People magazine, published online Wednesday, was the news that she brought a newborn son home to California earlier this year and has been raising him unbeknownst to almost anyone.
Bullock and James began the adoption process four years ago, according to the People article. They brought 3 1/2-month-old Louis Bardo Bullock home in January but decided to keep the news to themselves until after the Academy Awards.
The baby is named after jazz great Louis Armstrong, who had touched Bullock with his signature song, "What a Wonderful World," she said in the interview. The child was born in New Orleans, a city where Bullock and James had both spent time after Hurricane Katrina.
The baby became available during "the media craziness of the awards season," she said. Deciding to shield Louis from that turmoil, she kept his arrival hidden from all but a few trusted associates and loved ones.
"Anything we did with Louis had to be pre-planned like a CIA mission," she said. "Just the doctors' visits were filled with decoys and dark cars . ... People that I had worked with for years couldn't understand why I wouldn't let them into my house for (Oscar ceremony gown) fittings."
The sleeplessness almost any new mother knows remained a mystery to Bullock's makeup artist, who wondered why she needed a "copious amount of concealer."
Copyright 2018 The Associated Press. All rights reserved. This material may not be published, broadcast, rewritten or redistributed. We strive to uphold our values for every story published.