Mary January thought her 13-year-old son would be fine walking home from a fall dance at Central Junior High School.
The next day she was picking up his teeth off the ground in an alley near 13th and New York streets.
"You'd think your child would be safe walking with eight other friends," January said. "I always thought Lawrence was the safest place there was."
But that thought was shattered on Sept. 25, when then 13-year-old Caleb January was beaten by two men in an unprovoked attack.
Caleb and his friends were just blocks from the junior high school when four men between the ages of 18 and 20 started yelling at them.
When the men approached them, the group of kids scattered. Caleb was the only one they caught.
"It just happened," Caleb said. "One grabbed a hold of me, and the other one came up and blindsided me. Once I got hit, I fell to the ground, and one of them kicked me in the chest."
Caleb was eventually able to get away, running through yards and jumping over fences until he made it to a friend's house and called police.
He ended up in the emergency room missing two teeth; a third was knocked inches back in his mouth. When all the medical work was done, Caleb lost five teeth in all.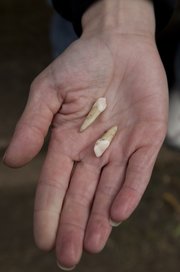 "It was hard for me to look at, at first," his mother said. "I just started bawling."
Police eventually arrested two Lawrence men in connection with the attack.
The Douglas County District Attorney's office has charged 19-year-old Derek Spencer and 20-year-old Daniel Heneck with two counts of battery and one county of conspiracy to commit battery. All of the crimes are misdemeanors.
"I don't understand, 'cause you steal a thousand dollars worth of stuff and it's a felony," January said. "My son got $13,000 worth of work stolen out of his mouth."
But the charges could become more severe. Both defendants appeared in Douglas County District Court on Tuesday afternoon, where prosecutor Eve Kemple indicated the charges could be amended to a felony.
Judge Robert Fairchild set a Sept. 29 jury trial for Heneck. Spencer's attorney asked for more time to meet with her client, who will be back in court May 11 for a trial setting.
The Januarys just want to see justice served. The incident has stolen their sense of security.
"My mom doesn't let me have that much freedom anymore," Caleb said. "She just has to drive me everywhere now."
"I went out and bought a mini-van so I could pick kids up and take them home," January said. "Caleb hates it. I don't let him walk anywhere now, not until all this is resolved."
Copyright 2018 The Lawrence Journal-World. All rights reserved. This material may not be published, broadcast, rewritten or redistributed. We strive to uphold our values for every story published.