Phoenix — Arodi Berrelleza isn't one of the targets of Arizona's new law cracking down on illegal immigration — he's a U.S. citizen, a high school student from Phoenix.
But the 18-year-old said he's afraid he'll be arrested anyway if police see him driving around with friends and relatives, some of them illegal immigrants.
"If a cop sees them and they look Mexican, he's going to stop me," he said. "What if people are U.S. citizens? They're going to be asking them if they have papers because of the color of their skin."
Berrelleza's concerns were echoed at rallies in the state Saturday, a day after Gov. Jan Brewer signed a bill that requires police to question people about their immigration status — including asking for identification — if they suspect someone is in the country illegally.
The new law, which will take effect in late July or early August, was cheered by many, including Maricopa County Sheriff Joe Arpaio, whose crackdowns have made him a hero in the anti-illegal immigration community.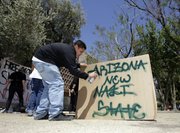 Current law in Arizona and most states doesn't require police to ask about the immigration status of those they come across, and many departments prohibit officers from inquiring out of fear immigrants won't report crime or cooperate in other investigations.
Now, police departments seen as weak on illegal immigration could face lawsuits. The new measure also toughens restrictions on hiring illegal immigrants for day labor and knowingly transporting them.
Arizona has an estimated 460,000 illegal immigrants and is the state with the most illegal border crossings, with the desert serving as the gateway for thousands of Mexicans and Central Americans.
President Barack Obama called the new law "misguided" Friday and instructed the Justice Department to examine it to see whether it's legal, but also allowed that the failure to enact immigration reform at the national level left the door open to "irresponsibility by others."
Mexican President Felipe Calderon's office said in a statement Saturday that "the Mexican government condemns the approval of the law" and "the criminalization of migration, far from contributing to collaboration and cooperation between Mexico and the state of Arizona, represents an obstacle to solving the shared problems of the border region."
A handful of protesters lingered at the state Capitol on Saturday morning, with a bigger rally expected to draw hundreds this afternoon. Opponents of the law also gathered in Tucson outside the campaign headquarters of U.S. Rep. Raul Grijalva, a Democrat who opposes the measure and said his staff has been flooded with phone calls, some from people threatening violence and shouting racial slurs.
Brewer has ordered state officials to develop a training course for officers to learn what constitutes reasonable suspicion someone is in the U.S. illegally.
Civil rights advocates vowed to challenge the law in court, saying it would undoubtedly lead to racial profiling despite Brewer's assurances.
Supporters dismiss concerns about racial profiling, saying the law prohibits the use of race or nationality as the sole basis for an immigration check.
"This is not about profiling," said the measure's sponsor, Republican Sen. Russell Pearce. "They're worried about the laws being enforced."
Copyright 2018 The Associated Press. All rights reserved. This material may not be published, broadcast, rewritten or redistributed. We strive to uphold our values for every story published.