Past Event
When: Sunday, April 25, 2010, 7 p.m.
Where: Lawrence Public Library, 707 Vermont St., Lawrence
Cost: $50
-->
-->
With a bio that reads "nation's best-known baseball historian and analyst — senior adviser for the Boston Red Sox — author of more than two dozen books on baseball history and statistics ... inventor of 'Sabermetrics,' an objective analysis of baseball that attempts to determine why teams win and lose —" you'd think Lawrence resident Bill James was obsessed with America's favorite pastime.
You'd be right.
"I'm not a real excitable person by nature, but I'm the most obsessive baseball fan that you know," says James, who speaks today at the Lawrence Public Library.
"Baseball is never out of season for me because even when games aren't being played, the 1928 season is still being replayed in my head, or the 1976 season. Questions are still there to be analyzed."
Like all true obsessions, the sport has a grip on James' heart, as well as his head. He works largely by the numbers - methodically, empirically, diagnostically. Yet, he waxes poetic on the heady days of early spring.
"I've always said my favorite moment every week is that moment in church when you're sitting there and everybody has gray hair and you think there's nobody there under 60," he explains. "Then, they start the children's sermon and little children just pour out of the seats and run down the aisles. The moment when an infant season begins is like that moment.
"You're there - for me, it's usually in Fort Myers, Florida - and you see the green grass, and it's wonderful. And you can't explain why because there's some element of it that your senses have forgotten, and there's no way to replace it except when the games are actually being played."
Clearly, the man lives, loves and dreams baseball. But that doesn't mean he's one-dimensional.
"Bill does have a very wide range of interests and would never want to be seen as a one-track guy. Because he isn't," says Susan McCarthy, an artist and James' wife.
That said, McCarthy saw the writing on the wall early in their relationship and started taking an interest in her partner's passion.
"I think that if he'd tried to make me a baseball fan, I would have rejected it completely because I wouldn't have wanted to feel like I had to do this just for him," McCarthy says. "But since I came to it willingly and on my own, and he was such a good teacher, it really worked out."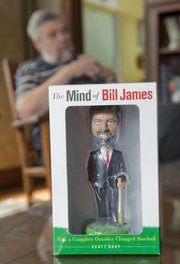 Hobby haven
But the couple share other interests, including politics, art and, of course, their three children. They've filled their Old West Lawrence home with antiques collected over their 31-year marriage. Susan's paintings adorn the walls, and a sampling of Bill's eclectic collection of figurines, busts, nesting dolls and Bobbleheads accessorize the decor.
How eclectic? Everybody from Jackie Gleason to John F. Kennedy and W.C. Fields to Shakespeare is represented. There's even a set of Bill Clinton nesting dolls featuring the former president with his, ahem, "dolls" - Monica, Gennifer, Paula and Hillary.
"I have, literally, thousands of them," he confesses. "Most of them are hidden away in boxes. It's a good hobby in the sense that it gives people something they can get you for Christmas."
Sandwiched between stacks of books in the library is a figure that looks surprisingly familiar: a Bill James Bobblehead.
"There was a book called 'The Mind of Bill James' several years ago," he explains, "and the publishing company did it as a promotion. I don't know how many of those they produced, but I know quite a few people who have one."
Not everyone can become a Bobblehead, a truth that's not lost on James' 24-year-old daughter. At a young age, Rachel - unlike her younger brothers, Isaac and Reuben - was in awe of her father's fame in the baseball world.
"I was definitely aware," Rachel says. "I've always followed celebrities, so I was very impressed that Dad had an agent and was in magazines like Newsweek. When they did the Bobblehead, that was really cool because I used to collect Bobbleheads."
Isaac, 21, was less impressed with the Bobblehead distinction. While he appreciates his father's accomplishments, he thinks of him as just a normal dad.
"If I weren't his son, I wouldn't know his name," he says. "I'm not a huge baseball fan, just a casual baseball fan."
But, once in a while, a father's fame precedes the son.
"Sunday of last week, I met a girl's parents, which was awkward enough, and her mom knew who my dad was. And it was like, 'Oh, my God!' Every once in a while you run into someone who actually knows who he is and they get really excited."
True crime
James is also fascinated by true crime stories, having read them most of his life, and has just completed a new book, "Popular Crime" to be released next February.
"It's about the phenomenon of taking horrific events and making popular amusement of them," he says. "It's about crime books and the issues raised by them."
Just as he's adamant that Babe Ruth was the greatest baseball player "who didn't shave his head and use steroids, HGH and synthetic testosterone," he has an opinion about the ultimate crime book, too.
"'In Cold Blood' (by Truman Capote) is, in fact, the best crime book ever written, being as objective as I reasonably can," he notes. "It isn't just the most famous, it's also the best. If you're writing a book about crime books, you really can't ignore it. On the other hand, there's already been so much said about it, there's not an awful lot left to be said."
Copyright 2018 The Lawrence Journal-World. All rights reserved. This material may not be published, broadcast, rewritten or redistributed. We strive to uphold our values for every story published.