Spanish services in Lawrence
Centro Cristiano Nueva Vida:
6 p.m. Saturday, Clinton Parkway Assembly of God Church, 3200 Clinton Parkway.
Dios Con Nosotros: 1 p.m. Sunday, BridgePointe Community Church, 601 W. 29th Terrace.
Plymouth Congregational, Spanish service: 2 p.m. Sunday, 925 Vt.
St. John the Evangelist Catholic Church, Spanish service: 1 p.m. Sunday, 1234 Ky.
Photo Gallery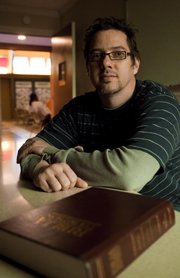 Spanish church services
For Christians worldwide, God is God, whether you call him "Dios," "Dieu," "Gott" or something else entirely. Same goes for Jesus Christ, the Bible and the other cornerstones of the faith.
But talking to and about God in a language that's not your own? That can be, well, difficult.
"When you hear 'I love you' in English and I say 'Te Amo' in Español ... when someone tells me 'Te Amo' it's more familiar. It's more to my roots," says Yamil Salmeron Diaz. "It doesn't matter the language when you're talking about the Lord, but it's important for people to feel comfortable in their language and to get the Bible from their language.
"I think it's more helpful and more effective."
Salmeron Diaz and his wife, Yarima Dominguez Alvarez, are missionaries from Cuba, and they felt called to Lawrence to make sure the Spanish speakers here were getting a chance to worship with the freedom that is only possible in one's native language.
And their Dios Con Nosotros ministry is not alone.
In the past year, three Spanish ministries have popped up to offer an alternative for Spanish-speaking Lawrence residents, who previously only had one Spanish service in town from which to choose: a Sunday Mass at St. John the Evangelist Church, 1234 Ky. Now, there's also a Spanish service at Plymouth Congregational Church, 925 Vt., the Centro Cristiano Nueva Vida meets at the Clinton Parkway Assembly of God Church, and then there's Dios Con Nosotros, which meets at BridgePointe Community Church, 601 W. 29th Terrace.
Thousands unchurched
And while the St. John's service is still by far the most popular in town — it gets 200 to 250 attendees each week, while the other services have core groups of 10 to 20 — there's a good chance the people who aren't attending want options, says Plymouth's Spanish services leader Rev. Shannon Gorres, who has a master's degree in Latin American studies and has worked on missionary efforts in Central America.
"Do we expect Spanish speakers to be Catholic? Mostly yes because of the conquest in the 1500s with the Catholic Church, if you know your history, but you know, also there are many indigenous folks who don't go to any Christian church and practice their own indigenous beliefs and spiritualities," says Gorres, who also notes a Protestant movement that happened in Latin American countries in the past 50 years. "They have several hundred people that attend (St. John's) Mass on the weekends. But we know that there are about 4,000 Latinos in Douglas County. So, that doesn't cover everyone."
That number is an estimate based on 2000 Census figures and doesn't mean the county has 4,000 Spanish speakers, Gorres says, but she and the other church leaders estimate that there are most likely more native Spanish speakers than just the couple hundred who attend their services each week.
Getting the word across
The reasons for that are numerous, say the pastors. Gorres points to an influx of Latinos who are indigenous and may not comfortably speak English or Spanish. Salmeron Diaz says that many times jobs can get in the way — he often moves around or repeats his Bible studies to accommodate the work schedules of church members whose schedules are constantly unstable. And then of course, there's a lack of familiarity in English-language services, says Erik Rocha, a Mexican-born evangelist working toward his ordination who runs Centro Cristiano Nueva Vida.
"Hispanics, we don't like to bother people. And we hide," says Rocha who prides his services on being about love and laughter. "Having a service here just especially for Hispanics, they feel comfortable."
Language can even be a barrier for those in charge of the services. The Rev. John Schmeidler says that when he came to St. John's six years ago, the Spanish services had already been going for two years and he was happy to lead them, except for the fact that he didn't know much of the language.
"I just kind of sit with a little lady that I talk with and I kind of speak in Spanish my homily to her and then she makes sure that it's saying what I want it to say," Schmeidler says. "Sometimes I have to clarify because ... we use idioms and things that they don't really use or would understand the way we would."
Working together for clarification and learning seems to be the name of the game with these ministries, which are all working out in their own ways to reach the Spanish-speaking community. Plymouth and St. John's have joined together with Centro Hispano for a recent communications workshop. Meanwhile, Rocha is working to counsel those in the community who need help with their family life or drug and alcohol problems. And Salmeron Diaz says he's just happy to bring the word of God to the community, no matter an attendee's background, former religion or country of origin.
"From all of Latin America," Salmeron Diaz of his congregants. "We have Peru. We have Chile. We have Guatemala. We have Mexico. We have Puerto Rico. We have Cuba. ... Some of them, they are Christians, some of them come from other religions. I think they're looking for being close to God and kind of worship God together."
Copyright 2018 The Lawrence Journal-World. All rights reserved. This material may not be published, broadcast, rewritten or redistributed. We strive to uphold our values for every story published.