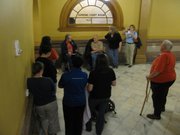 Topeka — A House committee Friday approved a budget that keeps the lid on state taxes, but cuts funding to education, social services and state employees.
The proposal was advanced by the Appropriations Committee on a voice vote.
Democrats succeeded with several amendments to restore some funding from earlier cuts, but still expressed opposition to the final product.
"The budget is a little better than what it was but I still have a great deal of concern," said state Rep. Bill Feuerborn of Garnett, who is the ranking Democrat on the committee.
One lobbyist referred to the amendments made in committee as "seasoning the sausage."
But Appropriations Chairman Kevin Yoder, R-Overland Park, was pleased with the bill saying it was better than the one he pushed through the committee several weeks ago.
The earlier bill cut public schools by $172 million in the next school year by not replacing federal stimulus funds. But on Friday, the committee added back half that amount -- $86 million.
And the committee restored $7 million in funding for services for Kansans with disabilities. Earlier in the day, advocates for people with disabilities protested outside the committee room.
"People are dying, shame on you," the group shouted and could be heard inside the meeting room. They also chanted "Up with taxes, down with budget cuts."
Yoder conceded there were painful cuts in the budget, but he said that for him the bottom line was that it balanced without a state tax increase.
Schools still face an $86 million cut, which could cause local property tax increases, while centers for independent living that help Kansans with disabilities, and childhood programs would be reduced significantly. In addition, state employees would be furloughed on Friday afternoons for a 5 percent pay cut and many vacant positions now frozen would be eliminated.
State Rep. Barbara Ballard, D-Lawrence, spoke out against cutting childhood programs, such as Early Head Start. "I know we have to cut, but think of all the people that will be affected by this. We are talking about our young children, our infants, and they are the ones that are most vulnerable," she said.
Democrats also noted that the committee budget relies on $131 million in additional federal funds for Medicaid; funds that haven't been approved yet by Congress and that some analysts predict are doubtful.
The overall budget bill will now go to the full House for consideration. The Legislature returns on Wednesday for the wrap-up session facing an estimated $500 million revenue shortfall.
Gov. Mark Parkinson, a Democrat, has proposed a 1-cent increase in the state sales tax rate, from 5.3 cents per dollar to 6.3 cents per dollar, plus a 55-cent per pack increase in the state cigarette tax. Parkinson has argued that after having cut nearly $1 billion from what was once a $6.4 billion budget, more budget cuts will do permanent harm to critical state services.
Earlier this week, the Senate Ways and Means Committee approved a budget that would require $500 million in new revenue, but it failed to produce a tax package to support the spending.
Yoder said that gave House Republican leaders more impetus to focus on a no-new-taxes budget.
Asked what the final outcome will be between tax increases and more cuts, Yoder said the ultimate product will be closer to the House Appropriations budget than the Senate Ways and Means budget.
Copyright 2018 The Lawrence Journal-World. All rights reserved. This material may not be published, broadcast, rewritten or redistributed. We strive to uphold our values for every story published.