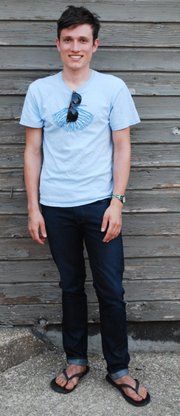 J.B. McNerney
Age: 21.
Sign: Aquarius.
Hometown: Wichita.
Time in Lawrence: Two years.
Occupation: Student.
What were you doing when scouted? I was sitting in front of the Natural History Museum on campus.
How would you describe your style? I would say eclectic, but most of my clothes come from one or two stores, so maybe it's not as eclectic as I like to think.
What are your current favorite fashion trends? I'm a fan of the Euro-mullet. It's one of my favorites. Also, glow-in-the-dark watches.
What are your least favorite fashion trends? Those stupid, thin, hair/headband things. The really thin ones. Irritating, even if I can't quite explain why.
What would you like to see more of in Lawrence? I would like to see or meet more people who know/love Karl Pilkington. I will instantly befriend any guy, or immediately propose to any girl who knows what I'm talking about. As for the people that don't, "get rid of 'em."
What would you like to less of in Lawrence? I've been hopeful that tanning-bed use would come and go like a fad, but I'm starting to give up on that one. It'd be nice to see less fake tans, there's no point and it's not like they're hard to spot, which in my mind, kind of defeats the purpose. Also, my friend made the good point that people should only dress like sailors, with Sperrys and the standard Polos and plaid shorts, if they actually own a yacht. This is Kansas, after all ...
People say I look like: I don't get compared to many people that often, which is good, I guess. I'd prefer people to think I look like me, rather than someone else.
Do you have any fashion influences? My fashion influence is whatever season just ended since I only buy clothes from the sale rack.
Tell us a secret: Firstly, I've regressed to the disposition of your average 6-year-old boy in the sense that I prefer to be dirty and shower way less often than I should. Secondly, It's much easier to buy jeans, which are cheaper than jean shorts at certain stores (cough, cough, Urban) and just chop the legs off yourself.
Shoes: Target, April 2010, $3.
Jeans: Urban Outfitters, April 2010, $30.
Shirt: 2007, gift.
Watch: Swatch, December 2010, gift.
Sunglasses: Faux Ray Bans, February 2010, gift.
Belt: February 2010, gift.
Copyright 2018 The Lawrence Journal-World. All rights reserved. This material may not be published, broadcast, rewritten or redistributed. We strive to uphold our values for every story published.