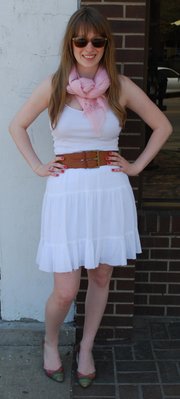 Haley Trezise
Age: 24.
Sign: Capricorn.
Hometown: Hutchinson.
Time in Lawrence: Six years.
Occupation: Graduate student in art history at UMKC.
What were you doing when scouted: Walking into Yarn Barn for some much-needed yarn.
How would you describe your style? 1950s and 1960s modern housewife.
Favorite fashion trends: High-waisted minis, high-water pants and side braids.
Least favorite fashion trends: Leggings with heels, matching sweatsuits, topsiders and Uggs.
What would you like to see more of in Lawrence: Dog-friendly people, sweater clips and bow ties.
What would you like to see less of in Lawrence: Dirty hair.
What are your fashion influences? Audrey Hepburn, Jackie Onassis and J.Crew — all three represent classic, American style.
People say I look like: Twiggy circa 1967 and a young Meryl Streep.
Tell us a secret: I'm always trying to sneak out of the house without putting on a bra; they're terribly uncomfortable.
Shoes: Hutchinson Antique Store, spring 2007, $15.
Sunglasses: Ray-Ban Wayfarer, Sunglass Hut, summer 2009, $119.
Belt: Old Navy, winter 2010, $12.
Tank: J.Crew, summer 2005, $10.
Skirt: Dillard's, summer 2005, $15.
Scarf: J.Crew, spring 2006, $60.
Earrings: Lawrence Antique Mall, spring 2010, $1.50.
Purse: Kenneth Cole, hand-me-down.
Gold Ring: Mom's wedding band from my parents' marriage.
Lip gloss ring: Claire's, Fall 1998.
Copyright 2018 The Lawrence Journal-World. All rights reserved. This material may not be published, broadcast, rewritten or redistributed. We strive to uphold our values for every story published.