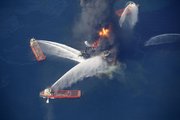 New Orleans — The Coast Guard by sea and air planned to search overnight for 11 workers missing since a thunderous explosion rocked an oil drilling platform that continued to burn late Wednesday, more than a day since it sent a fireball into the night sky. Seventeen people were injured, four critically.
Nearly 100 other workers made it aboard a supply boat and were expected to reach shore by early today. The blast Tuesday night aboard the Deepwater Horizon rig 50 miles off the Louisiana coast could prove to be one of the nation's deadliest offshore drilling accidents of the past half-century.
The Coast Guard held out hope that the missing workers escaped in one of the platform's covered lifeboats. Lt. Sue Kerver said the cutters Cobia and Zephyr were in the Gulf searching for survivors along with three Coast Guard aircraft and a civilian helicopter. She said the search would continue overnight.
Authorities could not say when the flames might die out on the 400-by-250-foot rig, which is roughly twice the size of a football field, according the website of rig owner Transocean Ltd. A column of boiling black smoke rose hundreds of feet over the Gulf of Mexico as fireboats shot streams of water at the blaze.
"We're hoping everyone's in a life raft," Coast Guard Senior Chief Petty Officer Mike O'Berry said.
Adrian Rose, vice president of Transocean, said the explosion appeared to be a blowout, in which natural gas or oil forces its way up a well pipe and smashes the equipment. But precisely what went wrong was under investigation.
Crews were doing routine work before the explosion and there were no signs of trouble, Rose said.
A total of 126 workers were aboard the rig when it blew up. The Coast Guard said 17 were taken by air or sea to hospitals with burns, broken legs and smoke inhalation.
Copyright 2018 The Associated Press. All rights reserved. This material may not be published, broadcast, rewritten or redistributed. We strive to uphold our values for every story published.