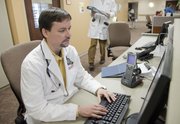 With the help of the federal stimulus package, the state of Kansas is in the process of digitizing state medical records. That means no more reams of papers to fill out or repetitive questions about allergies and prescriptions at every checkup.
The Kansas e-Health Advisory Council, which is composed of more than 30 health industry stakeholders, is creating a nonprofit corporation that will oversee efforts to establish a medical information sharing system for the state.
KDHE Deputy Secretary Aaron Dunkel said the council is in the first strategic planning stage, but it hopes to finish both planning stages by October. At that point, the council would receive more than $9 million from the U.S. Department of Health and Human Services to implement their plans for a statewide record system.
Dunkel also said the council and finance worker are looking at ways to restrain project costs by evaluating state-specific needs and looking at other state models.
"We are looking at coming up with a sustainability model because we know that this process is going to take a lot more than $9 million, but we need to continue," Dunkel said.
Helen Connors, associate dean for integrative technologies at Kansas University Medical Center and chair of the e-health council, said an electronic information system will improve efficiency and effectiveness for health care providers across the state.
"As far as their patient care is concerned, the provider will have the information needed to make decisions at the point of care," Connors said. "For example, they will be able to check last time somebody had a chest X-ray or pap smear right in the system."
An electronic system will also alleviate many of the problems that patients encounter when traveling to different hospitals. If patients from Colby need to go to Wichita or Kansas City for treatment, those hospitals would be able to access their records instantly.
The system implementation will not go along without some hiccups, though. Connors said providers will need to change the organization of their offices and learn how to use the system.
"I think initially, like with any new system or new technology, there's a learning curve," she said. "But once (providers) learn how to use the technology and organize their work flow around that technology, the efficiency and the effectiveness of the patient care will be much better."
Regional extension centers will be established throughout the state to help educate providers, especially in rural areas, about what systems to choose and how to utilize them in their offices. Connors also said these regional centers will also provide tech support for small providers in the region who cannot afford an IT staff.
Connors also said the HHS has approved funding for and expansion of community college programs to help train health professionals and IT workers and expand the work force. Since the classes will be at community colleges, Connors said they will be accessible to working professionals in urban and rural areas.
The benefits of an electronic medical record system are exemplified at Lawrence Memorial Hospital, where the staff is close to completely digitizing hospital records.
"By the end of March we will have every department automated and most clinical information, about 95 percent, online for our inpatient population," said Jane Maskus, chief information officer for LMH.
Maskus said the LMH system has improved the identification process by using bar codes for different patients and improved the accessibility of information across departments. Doctors and nurses can now access all patient information, even nurse and therapy notes through the online system.
Maskus said she believes a statewide system could do the same for hospitals all across the state, especially in rural areas.
"I think the ability to share will do nothing but improve the communication and coordination of care for the consumers," she said.
The American Recovery and Reinvestment Act of 2009, often called the stimulus package, is funding institution of statewide health information systems across the country. Connors said the eventual plan for HHS is to connect each state to a nationwide health system.
Copyright 2018 The Lawrence Journal-World. All rights reserved. This material may not be published, broadcast, rewritten or redistributed. We strive to uphold our values for every story published.