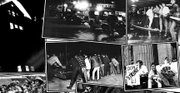 Forty years ago today, the Kansas Union burned. What followed was a year of violence and destruction not seen since Quantrill's Raid. While the unrest has long since dissipated, the memories remain.
Petitions continued to circulate for assurance of at least two blacks on the seven-member cheerleader squad at Lawrence High School. Tension persisted at the school after clashes between minority and white pupils.
Officials praised the work of Kansas University students in helping to remove valuable items from the Kansas Union during the April 20 arson fire. Students and townspeople had made repeated trips into the burning building to rescue valuables, and other young people aided firefighters in the handling of hoses and running of errands.
Copyright 2017 The Lawrence Journal-World. All rights reserved. This material may not be published, broadcast, rewritten or redistributed. We strive to uphold our values for every story published.