Related document

KU vs. Missouri box score ( .PDF )
Kansas City, Mo. — As any self-respecting Kansas University athlete knows, Jayhawks don't like Tigers, and Tigers don't like Jayhawks.
Wednesday at Kauffman Stadium, Kansas University freshman Thomas Taylor gave Missouri another reason to dislike the Sunflower State. Taylor tied a career-high with eight strikeouts, matching his April 13 outing against Missouri State, and tossed 52⁄3 scoreless innings to pick up the win as KU outlasted Missouri, 1-0, to improve to 3-0 all-time against the Tigers at Kauffman Stadium.
"I don't like the state of Missouri," Taylor said. "Growing up, the Royals have always been my favorite team, so it's obviously been my dream to come out and play at Kauffman. To pitch as good as I did, it was icing on the cake."
An RBI single by KU catcher James Stanfield in the top of the second proved to be the difference, despite the fact that nearly everybody in both dugouts expected more offense from both sides.
"I didn't think there was any way we'd play a 1-0 baseball game," KU coach Ritch Price said. "It's a lot better to be on the winning side than the losing side."
The 1-0 victory was the first for KU since 1983. To put that in perspective, Taylor was born in February of 1990.
"I think one of the big things about coming here is, you pitch a young man from Overland Park who grew up a Royals fan; you can't walk into a better environment," Price said. "You can be pretty jacked. And I think he showed some adrenaline. When he struck somebody out with two outs and a runner on base, he kind of did like a half fist pump, which, for him, is a lot of emotion."
Taylor admitted that some of his early-season struggles came because he took the mound with too much energy. He has found a way to harness his horsepower and has been sensational during his last four games. In three starts and one relief appearance in April, Taylor has pitched 14 innings, surrendered seven hits, no runs and no walks and struck out 19.
"I think he's starting to become an impact guy, which is what we recruited him to do," Price said.
Although Taylor's outing set the tone, the one-run victory would not have held up without a stellar performance from the Jayhawks' bullpen. After Taylor was lifted in the bottom of the sixth after throwing 75 pitches — Price said the plan going was to keep him under 80 no matter what — junior Wally Marciel and senior Travis Blankenship combined to slam the door.
Photo Gallery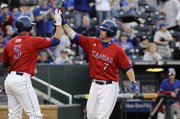 Kansas baseball vs. Missouri
Photos from the Jayhawks' game against Missouri at Kauffman Stadium. Kansas scored an early run and then held on for the 1-0 victory.
Marciel pitched 11⁄3 innings, giving up one hit and striking out one, and Blankenship was perfect in the eighth and ninth to earn his first career save. The only non-zero on Blankenship's line was a strikeout of Missouri power hitter Aaron Senne to open the bottom of the ninth. It came after Blankenship fell behind three balls and no strikes.
"I was a little amped up, and I just had to focus a little more and get back down in the zone," Blankenship said. "Getting the leadoff guy's always key because it can stop all the other stuff that can go on, running games and stuff. (KU assistant) Coach (Ryan) Graves always harps on getting the leadoff guy out. Usually when you do that, the inning goes a little smoother."
Despite seeing his closer fall behind 3-0, Price said the thought of walking Senne never crossed his mind.
"That guy's gotta earn the right to get to first base," he said.
The two teams combined for nine hits — six for the Jayhawks — and the game was completed in two hours and 15 minutes. As for the game's lone run, it came when Stanfield ripped a single to center field that drove in Jimmy Waters, who singled to lead off the inning. Waters moved to second on a sacrifice bunt by Casey Lytle and scored during the next at-bat.
"When we put up that first run, I thought we were going to score eight or nine runs on these guys," Waters said.
That didn't happen. But, thanks to Taylor, the Jayhawks didn't need it.
"I told Thomas that I would like to see that guy pitch every time," Waters said. "That was a big-time performance."
Copyright 2018 The Lawrence Journal-World. All rights reserved. This material may not be published, broadcast, rewritten or redistributed. We strive to uphold our values for every story published.