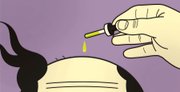 Snake-oil treatments for baldness have been around since the days of Hippocrates. According to the editors of Consumer Reports Health, those empty promises continue to this day.
While late-night television and pharmacy shelves are filled with products touted to restore hair, most of the tactics tried by thousands of balding men and women simply don't work very well, according to a new survey by the Consumer Reports National Research Center. The product that worked for the most people was the prescription drug Propecia (finasteride), deemed very effective by 27 percent of men.
In December 2009, a random sample of online subscribers received an e-mail asking them to complete a survey focused on hair loss. Findings from this Consumer Reports National Research Center survey focused on the 8,042 men and women who reported they had indeed experienced hair loss or balding. Respondents whose hair loss was related to chronic illness or chemotherapy were excluded.
Of survey respondents who sought treatment for hair loss, 65 percent said they had nothing to lose from trying. CRH notes that there are plenty of downsides to several remedies:
• Finasteride, available as Propecia and as a generic, worked for some. Patients should commit to it for at least three months and any gains it may have will be lost once the patient stops taking it. While side effects are infrequent, they can include depression and impotence. It can be used by men only.
• Minoxodil, sold under the brand name Rogaine or generically, works best on patients whose hair loss is recent. Survey respondents said it was largely ineffective. As is the case with finasteride, any benefits are lost when you stop taking it. Side effects include dry, itchy or irritated scalp and increased facial hair. Women can use Rogaine in the 2 percent strength if they're willing to live with the possibility of facial hair. Men can use 2 or 5 percent solutions.
• Surgery, which typically involves a basic transplant of hair from the back of the head to the top or front of the head, costs on average $5 for each graft. The average transplant can take 2,000 grafts, bringing the total cost to approximately $10,000. In many cases, the procedure must be repeated, doubling the cost. Not everyone is a successful candidate and there's a possibility of infection, a long recovery period, scarring or patchy hair growth. And finding a skilled surgeon can be a challenge.
The CRH survey found that women were especially bothered by hair loss. Fifty-five percent of women who had hair loss, compared with 24 percent of men surveyed, said they worried a lot about losing more hair in the future. Women who had lost hair were more likely than men to pay attention to other people's hair or lack of it, stare in the mirror, and feel self-conscious about their appearance.
The survey found that masking baldness might very well be the ideal option. Sixty-five percent said that they found wearing a wig or toupee was very or somewhat effective, while 46 percent of men liked shaving their head, and 46 percent of people said that simply dressing better was effective for hiding hair loss.
Covering up greys
For those consumers who still have their hair but are looking to cover grays, a new test of home hair dyes found that Clairol Textures and Tones, L'Oreal Paris Superior Preference, Clairol Natural Instincts and Clairol Natural Instincts For Men work best.
CRH tested 13 home hair dyes consumers would use to dye gray hairs brown and rated them on how well they covered grays, how easy they were to use, and whether the color was blotchy or streaky. The top products scored high marks across the board when tested on tresses of grey hair. The results show that for less than $13 — well below salon prices — consumers can easily and effectively cover their grays.
Copyright 2018 The Lawrence Journal-World. All rights reserved. This material may not be published, broadcast, rewritten or redistributed. We strive to uphold our values for every story published.