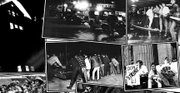 Forty years ago today, the Kansas Union burned. What followed was a year of violence and destruction not seen since Quantrill's Raid. While the unrest has long since dissipated, the memories remain.
Which story to tell? That's a hard one. I have so many stories of experiences in 1970 and so many memories.
My father and mother, J. R. "Bob" Pulliam and Alice Pulliam, were highly involved in all the happenings of that year. My father was acting mayor of Lawrence and a downtown business owner. My mother attended the Paris Peace Talks as a spokesperson for The American Friends Service Committee.
Both of my parents were active in the peace movement and the movement of racial integration and equality. And, we lived at 721 Tennessee, a central location for most all of the extraordinary happenings of the times.
A good neighbor
I would like to start with a story about our neighbor, Mr. Henry Johnson. The Johnson's lived behind our house on Ohio Street (Mr. & Mrs. Johnson still live there today). The Johnson's had a daughter that was a little older than I was. She was always so nice to play Barbie with her little neighbors. We were always welcome in the Johnson house to play or for dinner.
The Johnson's are African-American, or Black, as we said then. They also had relatives in Topeka. Some of the younger relatives were connected to the Black Panther Movement that advocated for Black Nationalism or autonomy.
As my parents were advocates for integration, they were targets of The Black Panthers.
Children in Lawrence in the 60s and 70s roamed their neighborhoods and played in their yards without fences or supervision. My sister and I walked home from school and played in our backyard and alley behind our house most every day. Our friends would join us and we ran back and forth between our homes.
Mr. Johnson seemed concerned about our freedom. He worried about the rumors he had heard about the possible attacks on our family from The Black Panthers. So, everyday, when Mr. Johnson came home from work (around 4:00 pm), he would sit on his back porch, watching out over us girls, with a shotgun in his lap.
Funny, we thought, so over-protective of Mr. Johnson. We'd wave at him and go over and talk to him. We knew he had his shot gun with him. We just thought it was funny. We never thought we were in danger.
Now, as an adult, I know what a special neighbor he was (and, probably not over-protective). That summer, the summer of 1970, after Rick Dowdell was shot and killed, The Black Panthers did come after my father. We were warned in time to get him protection. We were warned by the Johnson's relatives.
I still see Mr. and Mrs. Johnson around town. I always give them a hug. But, I don't think I've ever thanked them. Recently, my older sister passed away. They sent a card and a check as a donation. When I send a thank you card for their monetary generosity, I'll also thank them for protecting our family and for illusion of safety for the Old West Lawrence Girls to play.
Photo Gallery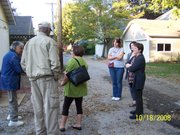 Cammie Braden's photos reflecting her memories from 1970
Cammie Braden was in grade school in the violent year of 1970. But with her father as acting mayor at that time, she has plenty of memories to share. Her photos were taken in 2008 and are of her home and neighbors from that era.
Natural integration
My sister, Terri Pulliam, was Vice-President of the student council at Central Junior High School they 1969-70 school year.
Cathy Hamm White was the President. My sister was white and Cathy is Black, a multi-racial team. We didn't think too much about it, but others seemed to make a big deal about it with an article and picture in the paper. Years later, my Terri told me she didn't want to run or be vice-president.
Recently, Terri passed away. Cathy came to her service. I hadn't seen her since 1970, but recognized her from the newspaper picture. She told me they were talked into running and didn't really want to do it.
That same year, I usually walked home from school with a neighbor friend who was black. One day, we stopped at the "Train Park" which is now Buford Watson Park. She decided to swing. We were swinging the "Spider" (one person sits on the swing while the other person sits on her lap facing the bottom swinger). A college girl came by and took our pictures. She later won a national photo contest with a shot us spider swinging. It was published in the Jayhawker Yearbook.
Interesting - as teenagers and children growing up in Lawrence, integration was very natural to us. It was the adults that needed to make a point out of it.
A scare at Pinckney Elementary School
One day in the spring of 1970, we couldn't go out for recess at Pinckney Grade School.
We noticed that all the doors to the outside were chained and locked! We weren't told why until we were lining up to go home that day. Our teacher told us to go straight home and to not talk to anyone on the way home. She said that there was a group of people who were threatening integration of schools. We weren't quite sure what that meant or why we needed to be afraid. We just walked home the same way we always did: in groups of both white and black kids.
When I got home, my mother told me that a group of Black Panthers had gone to New York School and tried to pull the black children out of school. They didn't want the black kids in school with the white kids. And that they were one their way to Pinckney because it also was a school that was largely racially mixed.
I thought I had exaggerated that experience in my memory over time. So, I talked about this experience on my Facebook page. Many posted comments that their school doors in Lawrence were also chained shut that day for the same reason.
As mayor, father was a target
The spring of 1970, during the riots, we couldn't live at home.
My father was the acting mayor of Lawrence (John Emick was the actual mayor, but very ill during his year as mayor). My father was also a downtown business owner. My parents has weekly meetings at our house to discuss integration in Lawrence, something the Black Panthers were opposed to. This made my father a target of the Black Panthers. He was also a target as being a part of the establishment.
We lived at 721 Tennessee, across from the Municipal Pool and a block from the police/fire department. The Credit Union had been bombed, which was downtown. A police officer was stationed on top of the police/fire station at all times to watch for suspicious activity in the downtown area and around our house.
After school, we went to my grandmother's house on Emery Road. When it got dark, we had to pull all the blinds shut and couldn't walk in front of windows. My father spent the nights at the police station volunteering on dispatch. It was hard to sleep. All night we heard gun shots and sirens. I worried about my dad all night.
Rick Dowdell's funeral
The summer of 1970, when Rick Dowdell was shot, some old friends came to stay with us.

They were the Simons Family.
Marilynn and Bill were a mixed-race couple (Marilynn was Black and Bill is White). They had come back to Lawrence for Rick Dowdell's funeral. They had been his foster parents at one time. The Black Panthers did not want them in town. They were not allowed at the service. Only Black people were allowed to attend.
One day, we were all playing in the living room when some strangers came storming into the house (we never locked our doors). They were looking for my father to warn him that the Black Panthers were after him that day. I'm not sure what happened. We were never told.
It apparently didn't scare me too much. Our parents told us that the funeral procession would be going down Vermont Street and we should stay away. I'm not sure where our parents were, but I was in charge of all the kids.
I told someone I was taking all the kids to the park, but we went to Vermont to watch for the funeral procession. I remember it was very long and somber, everyone dressed in black and on foot. I remember the black carriage that carried the coffin.
Juana Simons and I are still great friends. I asked her if she remembered any of this. I wondered if it really happened - it seemed so unreal.
She didn't remember, because she was only 7. I was only 10. It's amazing how much freedom we had as children.
National Guard at LHS
The 1969-70 school year started very differently than most others. The National Guard lined the yard from one end of Lawrence High School to the other.
My mother drove my sister, Steffie, to her first day at high school as a sophomore. When they pulled up, my mother turned to Steffie and said, "You are not getting out of this car"! But, before she could stop her, Steffie grabbed her things and was gone.
Steffie went on to help start Headquarters Counseling Center that year and volunteered there. She participated in many protests and rallies. She continued to work with children with autism in college. After college, she worked with teen mothers, day care providers, elementary schools, and Susan G. Komen for the Cure for Breast Cancer.
She passed away, March 26, 2007 after a long life of service to many.
Peace march
I was awakened one night to sounds coming down our street.
I got out of bed and looked out my window. My parents were standing on the steps to our house watching a crowd of people walking down Tennessee Street. The crowd grew larger and larger and soon spread out of the street and onto our sidewalk as they passed.
They were calm, but talking to each other. My parents stood there and watched the crowd as they passed. As the end came to our house, my parents walked down the steps and joined the end. I had no idea who all these people were, why they were walking down Tennessee street so late at night, and why my parents joined them.
In the morning, my parents told me that it was a peace march. They marched to Iowa Street and had a Sit In on Iowa. But, my parents didn't sit on Iowa Street even though they opposed the war. They only stood and watched, because they didn't believe in committing civil disobedience.
Copyright 2018 The Lawrence Journal-World. All rights reserved. This material may not be published, broadcast, rewritten or redistributed. We strive to uphold our values for every story published.