-->
Photo Gallery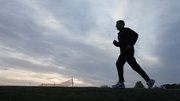 Kansas Marathon, April 18, 2010
Photos from the Lynn Electric Kansas Marathon in Lawrence on April 18, 2010.
Complete Kansas Marathon results
Check out the complete results from Sunday's Lynn Electric Kansas Marathon.
The Bentonville, Ark., home of runner Dave Weston features no shortage of race T-shirts.
They're everywhere, he says, a collection accumulated over the years thanks to an ambitious road-racing schedule that has taken the 38-year-old through various states — Texas, Minnesota and Pennsylvania, to name a few — and subsequently left him with diminishing closet space.

"My wife gives me a hard time because I have more running shoes and (race) T-shirts than I know what to do with," he said following Sunday's Kansas Marathon. "I have T-shirts that are 15 years old."
His newest one is certainly worth hanging onto. Weston earned his first overall marathon victory Sunday morning, finishing the 26.2-mile course through Lawrence in 2:50:11 to out-pace runner-up Cal Thoman by more than 21⁄2 minutes.
Racing in the city's first marathon in recent memory — unlike in previous years, the 2010 Kansas Marathon schedule included a full marathon — Weston jumped to an early lead and had little trouble maintaining it.
Sunday's race marked the 16th state in which he has completed a marathon, and if things go the way he hopes over the next several years — he already has additional marathons planned for November (Indiana) and December (Alabama) of this year — he plans to have raced in marathons in all 50 states by age 55.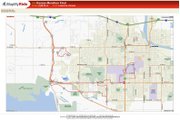 "Each marathon is a different experience; they're all a little different in their own way," he said. "So this was great. I've never finished first before, so it's pretty exciting. It's a whole different feeling being the first one coming in."
By many accounts, the 2010 version of the Kansas Marathon went swimmingly, from the spike in participation — more than 1,600 competitors registered for the 5K, half-marathon and marathon races, significantly more than '09 — to the weather, which was near-perfect throughout the morning, to a course that proved adequately challenging.
"That last hill on Clinton (Parkway), I could have done without that," said Topeka's Michelle Andrew, who won the women's marathon in 3:26:36. "The rest of the hills didn't bother me too much, but that last one after (the 23rd-mile marker)? Yeah, that was tough."
It was also an encouraging day for local runners, as the top-five lists of each of the three races were speckled with Lawrence residents.
The day's most impressive performance, however, belonged to Sammy Rotich, who took the half-marathon title in dominating fashion, finishing more than 13 minutes ahead of the next-fastest competitor and setting the course record with a time of 1:08:34 — a time he says he'd like to improve upon in 2011.
"If I get a chance next year, I'll be here," said Rotich, who made the trip from West Des Moines, Iowa. "I hold the course record for here ... but I've got to come back and figure out how to break it again."
Rick Stahl was the top finisher in the men's 5K with a time of 17:11, while Eudora's Marjorie Hedden was first in the women's race in 20:50. Dannah Chambers of Lee's Summit, Mo., won the women's half-marathon, clocking 1:35:22.
Copyright 2018 The Lawrence Journal-World. All rights reserved. This material may not be published, broadcast, rewritten or redistributed. We strive to uphold our values for every story published.