Past Event
with music by AZ1 and DJ Iggy Baby
When: Saturday, April 24, 2010, 7 p.m. to 11 p.m.
Where: The Granada, 1020 Mass., Lawrence
Cost: $5
-->
-->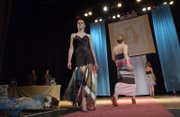 Lawrence's annual Earth Day fashion show will be Saturday at the Granada, 1020 Mass. Last Saturday I met with co-coordinator Martha Pierce for details about the show.
"The title of this year's show is See the Earth. Hear the Earth. Wear the Earth," Pierce said. "It's a benefit show for Audio-Reader, a University of Kansas organization that provides resources for the visually impaired. We wanted the title to be descriptive and all-inclusive — it will truly be a global celebration of all of the people who inhabit the earth together."
Pierce is also the owner of Mass Street business Vintage Van, 840 Mass., and she will be styling her store's run for the show. "It's a fun way for local business owners to promote our shops," Pierce said, "and it's a great way for up-and-coming, new designers to get more exposure and showcase their talents."
But fashion won't be the show's only attraction. Prior to the show, there will be Show and Sell Art available for purchase from 7 p.m. to 8 p.m., and a bluegrass band, the Honeysuckle String Band, will play during this time. Then, the runway show will begin after a poetry reading by the Haskell Intertribal Cultural Club; members from this Haskell student organization will also perform a dance in their native regalia.
Last week, Pierce drove down to Pryor, Okla., to pick up decorations for the show, including a 7-foot glowing earth-ball which will serve as the show's centerpiece, hanging from the ceiling like a chandelier.
Although the show has never been put on at the Granada before, the theater has agreed to host the show, and 100 percent of the proceeds generated by the door will be donated to Audio-Reader. Admittance is $5 per person; if you're looking for a bit of a discount, bring a CD along with you for a donation to Audio-Reader, and you'll save $1 on your ticket.
"Everyone who is participating has come together to make this show a possibility," Pierce said. "Lawrence is a great town for networking and spreading news via word-of-mouth. There is already a buzz around town, people getting excited for the show."
Earth Day fashion show participants include:
Amuse Design
Beyond the Door
Ecoboutique
Haskell Intertribal Cultural Club
Miss Fortunes Creation Station
Mixed Media Clothing
PLAYERGENE Company
Prodigy Apparel Co.
Social Service League
Third Planet
Vintage Van
White Chocolate
Wild Man Vintage
Copyright 2018 The Lawrence Journal-World. All rights reserved. This material may not be published, broadcast, rewritten or redistributed. We strive to uphold our values for every story published.