Topeka — State Senate budget-writers returned to work Monday to tackle an estimated $510 million revenue shortfall.
"This is not a pleasant experience for any of us," said state Sen. Jay Emler, R-Lindsborg, who is chair of the Ways and Means Committee.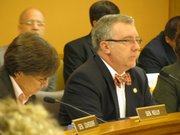 Emler said the committee will meet this week to put together a budget and the tax increases needed to support it. An overflow crowd attended the first meeting Monday morning.
The full Legislature returns April 28 for the wrap-up session.
Last week, budget and economic experts revised state revenue estimates for the current and next fiscal years. The shortfall is roughly $510 million from Gov. Mark Parkinson's recommended budget.
Parkinson, a Democrat, and Senate Republican leaders have called for a tax increase to bridge the gap.
Parkinson has said that the nearly $1 billion in state budget cuts that have already been made are enough. Further cuts, he said, will cause permanent harm to public schools, higher education and social services.
But House Republican leaders oppose any new taxes, saying an increase would be too great a burden on Kansas families amid a shaky economy.
Copyright 2018 The Lawrence Journal-World. All rights reserved. This material may not be published, broadcast, rewritten or redistributed. We strive to uphold our values for every story published.