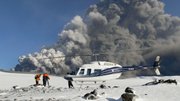 Amsterdam — Major airlines that sent test flights into European air space found no damage Sunday from the volcanic ash that has paralyzed aviation over the continent, raising pressure on governments to ease restrictions that have thrown global travel and commerce into chaos.
Is it safe to fly yet? Airline officials and some pilots say the passengerless test flights show that it is. Meteorologists warn that the skies over Europe remain unstable from an Icelandic volcano that continues to spew ash capable of knocking out jet engines.
European Union officials said air traffic could return to half its normal level today if the dense cloud begins to dissipate. Germany allowed some flights to resume.
Eighty percent of European airspace remained closed for a devastating fourth day on Sunday, with only 4,000 of the normal 20,000-flight schedule in the air, said Brian Flynn, deputy head of operations for Eurocontrol, which supports the air traffic control network across the European Union's 27 states.
"Today it has been, I would say, the worst situation so far," Flynn said.
The test flights highlighted a lack of consensus on when to reopen the skies. The microscopic but potentially menacing volcanic grit began closing airports from Ireland to Bulgaria on Thursday, stranding countless passengers and leaving cargo rotting in warehouses.
"It is clear that this is not sustainable. We cannot just wait until this ash cloud dissipates," EU Transport Commissioner Siim Kallas told reporters at the European capital in Brussels.
KLM Royal Dutch airlines, the national German carrier Lufthansa, Air France and several regional airlines sent up test flights, probing altitudes where the cloud of ash has wafted over Europe since the volcano turned active on Wednesday. British Airways planned an evening flight over the Atlantic from Heathrow, one of Europe's busiest hubs.
None of the pilots reported problems, and the aircraft underwent detailed inspections for damage to the engines and frame.
"Not the slightest scratch was found" on any of the 10 empty long-haul planes Lufthansa flew Saturday to Frankfurt from Munich, spokesman Wolfgang Weber said. The planes flew at low altitude, between 9,800 and 26,000 feet, under so-called visual flight rules, in which pilots don't have to rely on their instruments.
Steven Verhagen, vice president of the Dutch Airline Pilots Association, said he would not hesitate to fly an aircraft today carrying his own family.
"With the weather we are encountering now — clear blue skies and obviously no dense ash cloud to be seen, in our opinion there is absolutely no reason to worry about resuming flights," said Verhagen, a pilot of Boeing 737s for KLM. "We are asking the authorities to really have a good look at the situation, because 100 percent safety does not exist."
Civil aviation authorities in each country must decide whether to resume commercial traffic, but the 27-nation EU said if weather forecasts are correct it expected half its flights to operate normally today. While it was still unclear how the dust would affect jet engines, the EU said it was encouraged by promising weather predictions, at least for the next 24 hours.
"Probably tomorrow one half of EU territory will be influenced. This means that half of the flights may be operating," said Diego Lopez Garrido, state secretary for EU affairs for Spain, which holds the rotating EU presidency. He did not provide details about which flights might resume.
France's transport minister, Dominique Bussereau, said there will be a meeting today of European ministers affected by the crisis to coordinate efforts to reopen airspace.
Meteorologists warned that the situation above Europe was constantly changing because of varying winds and the continuing, irregular eruptions from the Icelandic volcano. That uncertainty is bumping up against Europe's need to resume flights.
"There is currently no consensus as to what consists an acceptable level of ash in the atmosphere," said Daniel Hoeltgen, a spokesman for the European Aviation Safety Agency.
Copyright 2018 The Associated Press. All rights reserved. This material may not be published, broadcast, rewritten or redistributed. We strive to uphold our values for every story published.