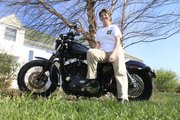 Creative and entrepreneurial talents and an aptitude for hard work come naturally to Kate Boyd, owner of KB Painting LLC, Baldwin City.
"I can't remember a time when I didn't have at least one part-time job," she says.
"At a very early age I made potholders on a little loom and sold them around our neighborhood. In the fourth grade I wanted to surprise my mom and make her smile for her birthday, so I painted her kitchen cupboards yellow."
Boyd says her single mom modeled hard work for her and her two sisters.
"We didn't have many material things, but I never thought I wanted for anything," she explains.
"Work and helping out came naturally to me. I didn't give it a second thought."
The family moved from Topeka to Lawrence when Boyd was a first-grader.
She attended South Junior High School and worked at Lawrence's skating rink and Sonic. As a senior she worked at an insurance office and obtained her first license to sell insurance at 16. She graduated from Lawrence High School in 1979 and attended Kansas City Business School in the evenings and weekends. She completed an 18-month course in 12 months, graduated in 1980 with A's and continued working full-time in insurance.
She met her husband, Gary, an industrial design student at Kansas University in 1986, married in 1987 and moved to New York, then Illinois with Gary's job. They returned to Lawrence when she became pregnant with her son Andrew.
"We wanted to have a quality of life with small-town values rather than just acquiring things," she explains.
She opened a home daycare and did all the painting and necessary renovations herself.
"Friends started asking if I'd help them, so I started painting part-time as a side business," she says.
"When Gary was recovering from a motorcycle accident I began reflecting on the shortness of life and made the decision to go for it and see if I could make painting a full-time career."
She formed KB Painting LLC in 1999 and says being a woman in a (then) mostly male profession wasn't a hindrance.
"In fact it's been surprisingly beneficial," she says.
"It's allowed me to bring a different perspective to my clients. I have a real hands-on interaction during their projects, and I'm known for doing whatever it takes to get things right."
She says a handful of male painting contractors in Lawrence were extremely supportive and helpful when she first started and encouraged her to keep going when she felt overwhelmed.
"I had an amazing mentor in Bill Swenson (then) owner of Lawrence Decorating Center. He told me to do what I do best and to stand strong," she recalls.
"Little did he realize how important those words were. They've stuck with me over the years."
She still enjoys bringing smiles to people's faces and helping them maintain their homes.
"I've been blessed to have three long-time employees with a work ethic that mirrors my own," she says.
"If I had three more just like them I'd be a very happy woman."
Copyright 2018 The Lawrence Journal-World. All rights reserved. This material may not be published, broadcast, rewritten or redistributed. We strive to uphold our values for every story published.