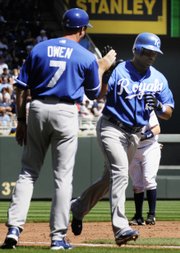 Minneapolis — Alberto Callaspo has watched the Royals bullpen struggle to hold a lead throughout the first few weeks of the season. Thanks to his two big swings, Kansas City finally built an advantage too big to squander.
Callaspo had two home runs and a career-high six RBIs, and Kansas City roughed up Carl Pavano in a 10-5 victory over the Minnesota Twins on Sunday.
Scott Podsednik added three hits and two RBIs for the Royals, who had 16 hits to improve their AL-leading team batting average to .309 and help a bullpen that entered the day with a majors-worst 8.10 ERA.
"The run production's been nice, and it's also been needed because of the inconsistencies out of our bullpen," manager Trey Hillman said.
Luke Hochevar (2-0) gutted through six innings for the win, giving up three runs — two earned — on six hits with five walks and four strikeouts.
Copyright 2018 The Associated Press. All rights reserved. This material may not be published, broadcast, rewritten or redistributed. We strive to uphold our values for every story published.