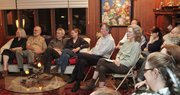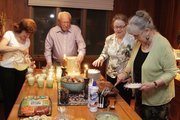 In the last 14 years, Dave and Gunda Hiebert have held 567 recitals in the living room of their West Hills home, not one of them for their own children.
"That works out to between 40 and 50 a year, and we have 25 to 30 people every time," Dave says. "We've never charged admission, we've never paid a musician to play, and never served any alcohol. I couldn't afford to serve alcohol to the 15,000-plus people who have come through this house."
"But," Gunda adds, "over the years, Dave has turned into a wonderful baker. He prepares a beautiful cake for every single recital."
The concerts are "practice runs" for KU School of Music majors - mostly, but not exclusively, pianists - preparing for end-of-semester recitals, international competitions or professional auditions.
"It started when we lived out in Alvamar," Gunda recalls. "We didn't have a grand piano, and our house wasn't set up for it, but this very talented Russian pianist who was studying with Jack Winerock was going to a prestigious competition in Japan and needed to run through his program in front of an audience. He didn't know many people, so we set up our house for a recital for him. He loved it, and so did we."
Then in 1996, Gunda - a lifelong music lover - happened upon an expansive Japanese-style home for sale on University Drive, and went in on a whim with a friend.
"We walked in the front door, and I looked to the right and to the left and said, 'Our furniture will fit in here perfectly, and that room is perfect for recitals,'" she says. "Then I said, 'Dave will never fall for this.'"
But Dave, a retired doctor who served as team physician for KU's football and basketball teams and had scant exposure to classical music, saw the potential, too.
They purchased a grand piano for their new home and, today, are two of the music department's most ardent supporters.
"We feel about the School of Music the way a lot of people feel about KU basketball," Dave explains. "Except the students in the School of Music are more accessible. I worked for the Athletic Department for 17 years, and I contributed a lot of money, but I was never able to get JoJo White to come over and shoot baskets in my driveway."
Piano professor Winerock says the opportunities provided by the Hieberts are invaluable to KU students and faculty.
"It's one thing to practice in a practice room or even play in front of your teacher, but you learn the most about how you are doing by playing for other people. The tryouts (at the Hiebert's home) are immeasurable," he says.
There's an educational element for the audience, too, he adds.
"Most of the people who come to the Hieberts' house concerts very often have little experience in classical music," Winerock notes. "And the Hieberts insist that whoever is playing or singing, talk about and explain the music to the audience."
"It's just a great way to support the kids at KU," says regular concert-goer, Kitty Johnson. "And, Gunda and Dave invite all sorts of people - people from the university, Kansas City and Topeka, people they meet from their travels to Vietnam, for instance. And everyone just enjoys it because the kids are really good."
Daniel Cunha, a piano student from Porto, Portugal, performed his fifth home concert Thursday night. He recalls meeting the Hieberts at a concert in Murphy Hall.
"I've been here for six years, and I met the Hieberts right when I came," Cunha remembers. "They immediately offered the house to give recitals there, which I thought was really great."
Cunha admits to having a slight case of nerves for his first recital in a home setting.
"I actually get more nervous in that situation, even though most of the people are my friends and I should be comfortable. But it's light in the room, and they're so close to you. It's a good training for more serious recitals in other venues. It's very important to play as much as you can in public so you learn to control your nerves," he says.
The Hieberts' hospitality goes beyond their evening programs. The couple frequently house overnight guests visiting the School of Music or performing at the Lied Center in a sort of bed-and-breakfast setup, although the lodging is always free of charge.
"They invite me and other colleagues over to dinner regularly," notes Cunha. "I've spent Thanksgiving with them, for instance."
The labor is one of love, the Hieberts insist, with a good measure of international reciprocity as icing on the cake.
"It's purely selfish," Gunda confesses. "We just absolutely love having those kids play in our house. We love the music, and we've made so many wonderful friends. We've been to see our kids in Portugal, their parents in Russia, Poland, Germany, Japan, Hong Kong. We keep track of most of them and follow up with them.
"We very rarely now have to visit a country cold," Dave says.
Copyright 2018 The Lawrence Journal-World. All rights reserved. This material may not be published, broadcast, rewritten or redistributed. We strive to uphold our values for every story published.