With a pile of hair on the floor below him and a handful of eight-inch pony tails on the counter in front of him, Kansas University senior Brad Thorson ran his hand through what was left of his hair and nearly fainted.
"I haven't had a haircut in 21 months," Thorson said Saturday. "I don't want to part with this. This is really hard for me. But it's for a great cause, and somebody's going to get an awesome wig."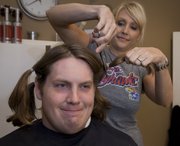 That cause, known as "Beautiful Lengths," is sponsored by Pantene Pro-V shampoo and is a program that turns healthy hair into wigs for cancer patients who have lost their hair during treatment.
The idea came to Thorson after several months with long hair, but was not the original intent behind his growing it out.
"Actually, I came to KU with a shaved head," he said. "When I got here, I was busy with school and football, so I just never cut it."
For the most part, Thorson's locks stayed hidden on gamedays. But this spring, they began to creep out of the back of his helmet, and the idea to donate it was born. Of course, the fact that KU coach Turner Gill nudged Thorson to get a trim didn't hurt.
"He didn't actually demand it," Thorson said. "He just said, 'Don't you think the kids would want their wigs?' I think he just wants us to look clean, and (long hair) was not the cleanest look for me."
From there, things happened quickly. After a plea for an extension was denied, Thorson made an appointment with Tisha Cobb, of Tisha Cobb Hair Design. Within five minutes of climbing into her chair, Thorson's long, flowing locks were gone.
As Cobb, who also cuts the hair of KU athletics director Lew Perkins, clipped away at the eight-inch segments of Thorson's hair, a look of genuine sadness came across the face of the 6-foot-5, 310-pound offensive lineman.
"I feel like I'm looking at a stranger in the mirror," Thorson said.
After a little recovery work from Cobb, Thorson began to like what he saw, even if it did feel a little strange. As the razor shaped the new look, complete with brand new, GQ sideburns, Thorson had one final question for his stylist.
"What celebrity do I look like," he asked.
"I think you look like your own celebrity," Cobb said with a beaming smile.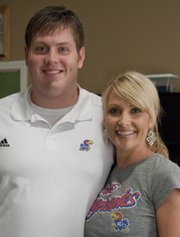 Jayhawks add Wichita QB
Hovpensports.com is reporting that Wichita Collegiate senior quarterback Blake Jablonski has signed a letter of intent with Kansas and will join the KU football program this August as a walk-on.
According to the site, Jablonski, 6-2, 190, is the state's all-time single-season leader in passing yards and touchdowns.
He joins Hutchinson High running back Josh Smith as the second in-state product in the Class of 2010 to join the Jayhawks as a preferred walk-on.
Copyright 2018 The Lawrence Journal-World. All rights reserved. This material may not be published, broadcast, rewritten or redistributed. We strive to uphold our values for every story published.