In a full-body frog costume complete with crown and red bow, Jack Leipzig drove down Massachusetts Street in a 1981 Yamaha Scooter throwing out candy as he went.
"It isn't easy being green," he said.
That might be true. But Mother Nature sure made it easy to celebrate Earth Day on Saturday. Under sunny blue skies, about 200 people paraded down Massachusetts Street to South Park.
Leipzig was promoting the Living Green group at the First Baptist Church. Among those in the front of the pack was 12-year-old Isabel Rummell who, carrying a sign about the earth's connectedness, was connected herself with a brown ribbon to children dressed as a butterfly, fish, octopus, flower, waves and tree.
"It represents that we need to preserve the earth so that future generations can live here," Isabel said.
Earth Day, which is officially celebrated on April 22, will mark its 40th anniversary this year. In those four decades, a lot of change has come.
"I definitely think a broader range of people recognize the problem, and we are reaching out to a more diverse audience of people," said Kansas University Environs member Lauren Ashman, who helped coordinate Saturday's event.
Photo Gallery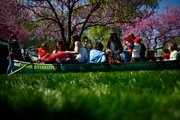 Earth Day parade, April 17, 2010
Parade-goers celebrated the environmental holiday in downtown Lawrence.
Along with the parade, more than 65 vendors set up shop in South Park for the afternoon. They included businesses selling eco-friendly products, green nonprofits and concerned citizens.
The booth with the biggest crowd was Animal Outreach of Kansas, which had a smorgasbord of free vegan food. A line of more than 50 people had formed in the park to try bread from Wheatfields, cupcakes from Atomic Bakery, vegan hot dogs and burgers from The Merc and quinoa.
By the end of the day, the organization planned to feed about 500 people, said Judy Carman, who noted that while being vegan protects animals, it is also good for the environment.
"There is so much land being used to grow food for animals that could be used to feed people," Carman said.
Right beside the vegan feast, people sang, recited poetry and danced in honor of Earth Day. Other booths provided information on recycling, composting and water conservation.
Kathy Richardson, with the city of Lawrence's waste, reduction and recycling division, said Saturday's celebration had one main goal in mind: "(For people) to take one thing home with them that they and their family can do or change to be a little bit more eco-friendly."
Copyright 2018 The Lawrence Journal-World. All rights reserved. This material may not be published, broadcast, rewritten or redistributed. We strive to uphold our values for every story published.