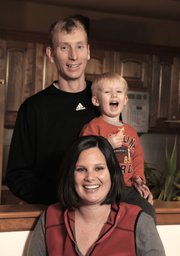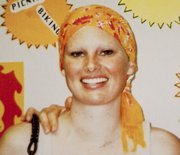 At 22 years old, Sara White Griffith was living a fairly normal life.
She had just graduated from Kansas University and was about to embark on life after college. She'd landed a job as a corrections officer at the Douglas County Juvenile Detention Center in Lawrence.
Although everything seemed fine on the outside, one small thing was consistently bothering Griffith. During training sessions at the gym, she experienced severe chest pain. For a time, she attributed it to specific exercises.
It wasn't until she went to a doctor that she found out the pain was caused by a tumor in her chest — Stage II Hodgkin's Lymphoma.
When she heard that news in December 2005, Griffith was "absolutely shocked." She and her family wondered, "How could something like this happen to someone so young?" Despite her initial devastation, she soon regrouped and began receiving chemotherapy treatments and radiation.
After just eight of 12 planned chemotherapy treatments, doctors told her she would probably be fine. But to be safe, she received the full round of treatments.
Griffith explained that her body tolerated the chemo very well, and she even had enough strength to keep working full-time at the detention center.
"I guess I had a positive attitude," she said. "They told me that there was a 90 percent cure rate, and based on that information, I was pretty positive that they would be able to cure it with chemotherapy."
Griffith has been fortunate enough to have strong support system from friends, family and the Lawrence Memorial Hospital oncology staff. Her then-boyfriend, now her husband, Lance, whom she met at KU, has been with her through the entire process.
He took her to work on days she didn't feel up to driving. He did laundry. He cooked.
"He was there, the whole time, supporting me," she said.
Her mother took off work and went with her to each treatment — every two weeks on a Monday.
Perhaps the most amazing thing to come of Griffith's battle with cancer was something she found out six months after her last chemotherapy treatment. Doctors had warned the chemo might render her infertile. But to her and her husband's surprise, Griffith was pregnant, and nine months later gave birth to a perfectly healthy baby boy, Julian, now 2. And five months ago, Griffith gave birth to her second child, a healthy baby girl, Chloe.
Her mother, Sally White, says that during her treatments and follow-up tests at the hospital Griffith developed "great relationships" with LMH oncology nurses. She thinks that's partially responsible for Griffith's recent applications to nursing schools at three area universities.
Griffith, now 27, has absolutely no regrets about her illness, and she even says she is grateful that it happened to her instead of someone else. She said having Hodgkin's made her step back and remember to be grateful for life.
"I just knew that being as young as I was, it was a hurdle that I had to overcome," she said. "And it wasn't something that was going to stop me. I took it one day at a time, and I continued living my life as I had been in the past.
"I just didn't close down and have a woe-is-me attitude."
Copyright 2018 The Lawrence Journal-World. All rights reserved. This material may not be published, broadcast, rewritten or redistributed. We strive to uphold our values for every story published.