Free State High's baseball team needed an out.
With the bases loaded and two down, the Firebirds were protecting a one-run lead in the fourth inning. Any sort of base hit would be costly. So FSHS coach Mike Hill made a call to the bullpen and made a request for some power.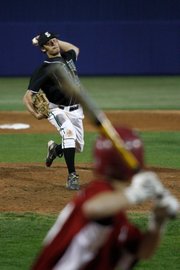 Junior southpaw Cody Kukuk delivered, striking out Warrensburg (Mo.) High's Jacob Huffman on a 91 mph fastball to squash any chance of a rally. Free State went on to win, 9-2, on Thursday at the River City Festival at Hoglund Ballpark.
"I was just trying to throw strikes," Kukuk said. "Luckily, I got a strikeout."
Kukuk delivered in relief of sophomore JD Prochaska — who's "still a pup," according to Hill, "but will be very good" — and struck out four of the five batters he faced. Kukuk earned the win for the Firebirds, who improved to 6-2.
When Kukuk took the mound, the Tigers seemed to be thrown off. Prochaska was more of a finesse pitcher and hit a maximum of 77 mph — stark contrast to the fire that Kukuk tossed. In the bases-loaded jam, the confident Kukuk was the perfect choice for an escape act.
"You have to go in there and think no one can hit you," Kukuk said. "You just have to throw your stuff and hope it works."
Free State led, 3-2, when Kukuk entered. After the strikeout, the Firebirds put up six more runs. Warrensburg put up goose eggs the rest of the way.
"He comes in in a one-run ballgame with the bases loaded, and from my perspective, overpowered the guy," Hill said of Kukuk. "That's kind of demoralizing if you're on the receiving end."
Colin Toalson finished the Tigers off with two innings of scoreless relief.
The Firebirds were solid on offense, producing eight hits, compared to Warrensburg's five. FSHS junior Timothy Lewis went 3-for-4 with two doubles and three RBIs hitting out of the five spot in the lineup. He smoked a double in the right-center-field gap in the bottom of the fourth inning that plated Connor Stremel and made it 6-2.
"I just saw a fastball right down the middle and connected nicely," Lewis said of the RBI double. "It felt good off the bat."
Nick Hassig went 2-for-2 with a walk, an infield single and a bunt single.
Austin Holladay sealed the victory in the sixth with a pinch-hit RBI triple. The triple plated Lewis and made it 9-2.
Free State will face Raymore-Peculiar (Mo.) at 3 p.m. today at FSHS in the second game of the River City Festival. The Firebirds will close the festival at 11:30 a.m. Saturday against Heritage at Hoglund Ballpark.
Copyright 2018 The Lawrence Journal-World. All rights reserved. This material may not be published, broadcast, rewritten or redistributed. We strive to uphold our values for every story published.