Topeka — A plan by Kansas University to churn out more doctors, especially for rural areas of the state, was endorsed Thursday by the Kansas Board of Regents.
"This is a very big deal to the western half of the state," said Regent Jarold Boettcher of Beloit.
Under the proposal, the KU School of Medicine would start a four-year program in Salina, and expand the two-year program already in Wichita to four years.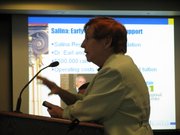 KU Medical Center Executive Vice Chancellor Dr. Barbara Atkinson said the effort will be accomplished through private fund raising and local partnerships. The amount of money needed at this point is unknown, she said, adding, "We are in fund-raising mode."
Mindful of the state budget crisis, Atkinson said, "We made a decision not to ask for additional dollars from the state."
In a briefing to the regents, Atkinson said the effort is being driven by increased demand for physicians and building capacity limitations at the KU School of Medicine in Kansas City, Kan.
Nationally, rural areas are in need of doctors, particularly primary care physicians, and that demand will increase as the federal health reform law kicks in and provides coverage for millions of additional people, Atkinson said.
Under the Salina proposal, KU wants to start a four-year track, starting with eight students per year, with the goal of keeping 75 percent of them in Kansas. Partnerships include the Salina Regional Health Center, Kansas Wesleyan University, Kansas State University-Salina, and the Smoky Hill Family Medical Residency program.
In Wichita, the KU School of Medicine already trains third- and fourth-year students with 55 students in each year. KU wants to add first- and second-year students with a startup of eight students and then increase to 28 students per year for the first two years. The goal there is keep at least half of the graduates in Kansas.
Wichita partners include Via Christi Health Systems, Wesley Medical Center, the Robert Dole VA Medical Center, the Medical Society of Sedgwick County and Wichita State University.
Dr. David Wilson, dean of the KU School of Medicine-Wichita, and Dr. William Cathcart-Rake, recently named director of the proposed Salina campus, both said support within the local communities has been positive.
Going forward with the expansions hinges on approval of the accrediting authority, called the Liaison Committee on Medical Education, which will conduct site visits July 14-16.
If given accreditation, the expanded operations could start in fall 2011, said Atkinson. But she added that it is likely the process could take longer.
Atkinson asked the regents to OK the expansion plan, saying that might help with the accreditation process. The board obliged unanimously.
Copyright 2018 The Lawrence Journal-World. All rights reserved. This material may not be published, broadcast, rewritten or redistributed. We strive to uphold our values for every story published.