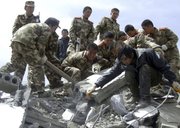 Xining, China — China poured workers and equipment into a mountainous Tibetan region today in a bid to find survivors more than a day after strong earthquakes killed more than 600 people and injured thousands.
The series of quakes flattened buildings across remote western Yushu county and sent survivors, many bleeding from their wounds, flooding into the streets of Jiegu township. State television showed block after devastated block of toppled mud and wood homes. Local officials said 85 percent of the buildings had been destroyed.
Survivors spent the night outdoors, where temperatures fell below freezing and aftershocks continued, residents said. With limited medical supplies and doctors, survivors with broken limbs could do no more than wait for help.
"This feels like a war zone. It's a complete mess. At night, people were crying and shouting. Women were crying for their families," said Ren Yu, general manager of Yushu Hotel in Jiegu, who said he felt at least five aftershocks overnight. "Some of the people have broken legs or arms but all they can get now is an injection. They were crying in pain."
Rescue work focused on several collapsed schools, with the state news agency saying at least 56 students died. Worst hit was the Yushu Vocational School, where the officials Xinhua News Agency cited a local education official as saying 22 students died, 20 of them girls.
The destruction of schools was an eerie echo of the massive magnitude-7.9 quake that hit neighboring Sichuan province two years ago, leaving nearly 90,000 people dead or missing. Thousands of students among the dead were killed when their schools collapsed. Poor design, shoddy construction and the lax enforcement of building codes were found to be rampant.
However, in affected areas of Qinghai most of the buildings fell, unlike in Sichuan where schools collapsed while buildings around them remained standing, giving the impression that schools were built to lower standards.
Ren said hotel staffers returning from assisting in rescue work at night described horrific casualties the quake had caused: "They told me that when some elementary school students were pulled out, their brains had spilled out."
Some people had to sleep on the sides of streets with nothing more than blankets, said Tashi Tsering, director of Jinpa, a charity that supports education and health projects in Yushu.
"It's very ghastly. The whole town has come down," Tashi Tsering said. "Most of the houses are made of wood and mud so they have totally collapsed to the ground. I'm sure there are some alive underneath but I don't think there are many of them." Survivors needed emergency medical supplies, water, sanitation, food and clothing, he added.
Copyright 2018 The Associated Press. All rights reserved. This material may not be published, broadcast, rewritten or redistributed. We strive to uphold our values for every story published.