Photo Gallery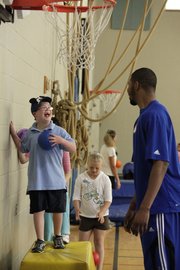 Jayhawks visit Sunflower Elementary
Members of the KU men's basketball team took some time Wednesday to help students at Sunflower Elementary learn about fun and fitness.
Jaylynn Columbus started to scream when she saw them.
The second-grader at Sunflower School watched three Kansas University men's basketball players walk into her physical education class Wednesday afternoon.
"I love KU basketball players," she said.
Sophomores Tyshawn Taylor, Markieff Morris and Travis Releford came to play for Fun and Fitness with the Jayhawks, a program that teaches kids about being healthy and gives them a chance to interact with their idols.
"It's fun just playing with the kids, and just making them smile is the most important thing," Morris said. "It was the best part of the day."
Second-grader Elijah Baum got to perform a feat most players on the college level can't do.
"I dunked on all of them," he said.
Morris did admit a few got the ball over him.
"It's a select few kids that I give the chance to dunk on me," he said. "The rest I blocked it every time."
Morris said he didn't get to meet with college athletes when he was in school, but loves to be able to give back to kids in Lawrence.
"It makes me happy just to make them smile," Morris said. "(You) get to play with them for a little bit to make their day."
Copyright 2018 The Lawrence Journal-World. All rights reserved. This material may not be published, broadcast, rewritten or redistributed. We strive to uphold our values for every story published.