It was the story that took seven years to reach its climax. Now, businesses surrounding the new Walmart Supercenter at Sixth Street and Wakarusa Drive are waiting for the happy ending.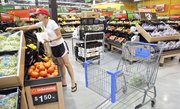 "Usually, a Walmart either puts you out of business or helps your business," said Aaron Boos, an owner of the Lawrence Nutrition Center across the street from the retailer. "But with this one, it just seems like it hasn't done anything.
"We wouldn't even know it is there if we didn't look out the front window."
Opening time
For the better part of a decade, businesses around Sixth and Wakarusa watched as the city and Wal-Mart fought a legal battle over whether the store should be allowed to build on the intersection's northwest corner.
In April 2009, the store finally opened, and many retailers thought the major new tenant would increase traffic and sales for the entire area. Thus far, several retailers said, that hasn't happened.
"We've been very disappointed," said Jerry Morton, an owner of CD Tradeposts, which operates a store in the shopping center on the southwest corner of the intersection.
For their part, Wal-Mart leaders said they are pleased with the store and they are happy with their decision to build a second store in the community.
"Things are going well," said store manager Ryan Edwards. "I think the new store has shown to be a very good convenience for our customers."
Wal-Mart doesn't release sales totals for individual stores, but several business owners said the amount of cars coming in and out of the location was less than they had expected.
"There is just so much more retail on South Iowa Street," Morton said. "When people have their billfolds full and are of the mindset that they are going to buy something, they still go south. A Walmart by itself just isn't a big enough draw."
Now retailers are watching how the intersection at Sixth Street and the South Lawrence Trafficway develops. That intersection — one mile west of the Walmart — already is zoned for up to two big-box stores. Retailers are holding out hope that such additional development will give a boost to the Sixth and Wakarusa area as well.
"The way the town is building towards Topeka, I think we'll continue to see more retail at some point," Morton said. "It is just a matter of whether it comes fast enough for the people out here now."
'Patience' the watchword
Some real estate professionals are taking a wait-and-see approach. Bill Newsome, who was part of the Lawrence group that developed the Walmart site, said several factors are influencing the area.
"If Walmart had opened in 2005 instead of 2009, I think it would have driven some real sales in the area," Newsome said. "But it opened when the economy was on its back and is still on its back."
Newsome said new businesses are continuing to inquire about the area, but the slow economy and tight credit markets have limited the businesses looking for new locations.
The development surrounding Walmart has up to three more lots that can be developed for commercial uses.
"The phone is ringing, but there is not a long list of users willing, ready and able to go," Newsome said. "And we'll be pretty particular. We want the right use to go there, so the watchword right now is patience."
Allison Vance Moore, an agent with the commercial real estate firm Grubb & Ellis/The Winbury Group, said the area is well-positioned for restaurants, in part, because of all the students that attend nearby Free State High School.
"Plus, when times are tough the trend does seem to be more towards restaurant activity," Moore said. "There are a lot of rumors about restaurants right now."
Moore also said she thinks more big-box development at the Sixth and SLT intersection could encourage more retail development near Sixth and Wakarusa.
"I think it will have a trickle-down effect," Moore said.
But that doesn't mean the area is set to become Lawrence's next big retail center, like South Iowa Street.
"I really don't think it will become that," Newsome said. "To some degree the future is tied to the rooftop growth and whether we see a lot more of that in the area. But this isn't 119th and Metcalf. There isn't that type of traffic, and there aren't those types of rooftops. A lot of potential users are eliminated right off the top because we don't have that type of mass.
"But we still have a great development and are excited about it for the long term."
Copyright 2017 The Lawrence Journal-World. All rights reserved. This material may not be published, broadcast, rewritten or redistributed. We strive to uphold our values for every story published.