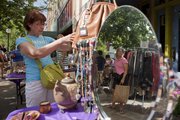 In the economic tumult of what's come to be known as The Great Recession, Lawrence businesses are looking for any lifeline that can help them weather the storm.
The recent downturn comes at a time when brick-and-mortar retailers were already facing dwindling sales, be it from online competition, pressure from big-box megastores or — as though even the heavens were aligned against them — a brutal winter that kept shoppers at home.
Things are bad, but they've not yet gotten to the point where Lawrence merchants are turning to one another for assistance in a panicked lifeboat mentality.
Despite well-intentioned attempts to build coalitions through organizations such as the Lawrence Chamber of Commerce or Downtown Lawrence, Inc., local businesses are increasingly realizing they can only truly rely on themselves.
'Fairly independent'
"I haven't personally seen anyone helping anyone else, and I'm really not sure what one business could do for another," says Phil Chiles, owner of the Massachusetts Street clothing store Wild Man Vintage. "I think that things would have to get really bad for that to happen. Maybe if there were more vacant spaces, or one or two Titanic-type businesses went under, that would get everyone's attention. Then we might start seeing more cooperation and strong efforts to promote the downtown. As it is, most business owners are a fairly independent group, so it would take a lot for this to happen."
Not that there haven't been efforts to facilitate more inter-business cooperation.
The Lawrence Chamber of Commerce has repeatedly attempted to form an insurance pool of Lawrence businesses to help with ballooning premiums, but has been thwarted at every turn.
"The Lawrence Chamber of Commerce used to provide an insurance benefit program for its members; however, that program was canceled due to a new state law that prevents associations or membership organizations from offering such a benefit in the state of Kansas," says Tom Kern, president and CEO of the Lawrence Chamber of Commerce.
Although that endeavor was sidelined, the chamber points to its Start Here program, which encourages shopping local, and the use of gift certificates, of which the chamber sold more than $60,000 worth in 2009, to spur local trade.
For some business owners in the trenches, however, it seems too little.
"I wouldn't call receiving the occasional mailer 'reaching out,'" says downtown business owner Joel Pfannenstiel, proprietor of Astrokitty Comics & More. "I think the Chamber of Commerce and others could do a lot more to help generate interest in downtown Lawrence as well as help protect the locally owned and operated businesses that help make up the rich tapestry of a shopping district that Mass. Street and the blocks surrounding it have become over the years.
"I would like to see the issues of parking and empty storefronts dealt with by the City (Commission) and the chamber. Also, it would be nice if the creep of chain stores and franchises was put to an end downtown, rather than merely sniffed at."
Guarded optimism
While Lawrence retailers are hopeful that efforts from the City Commission and the Chamber of Commerce to encourage local business are successful, most realize they have to go it alone.
"From Sunflower's perspective, we kind of feel like we just need to be better retailers," says Dan Hughes, owner of Sunflower Outdoor and Bike Shop and president of Downtown Lawrence Inc. "I like to say people don't have price resistance, they have value resistance. We can't really engage in dropping our price, because then we engage in a Wal-Mart level where we don't have that kind of efficiency. So, first and foremost, you have to have strong retailers. Secondarily, we need help from Downtown Lawrence Inc. to market downtown and remind people there's a lot of retailing opportunities downtown and what we have downtown is special. … As a retailer myself, I'm always cautiously optimistic. I think if you ask any retailer right now what their outlook is for 2010, they'd say they were cautiously optimistic."
That guarded optimism is shared by many retailers, but the economic straits through which Lawrence businesses must navigate remain murky.
"In comparison to state and national (unemployment) data, we look pretty good," Kern said. "As far as what 2010 will bring I think we will see some improvement in some sectors, but others will continue to decline or, at best, be flat.
"There does not yet appear to be an economic indication out there that shows that we are in an economic recovery. We may have bottomed out, but what economic driver will actually spur a recovery is yet to be uncovered."
Copyright 2018 The Lawrence Journal-World. All rights reserved. This material may not be published, broadcast, rewritten or redistributed. We strive to uphold our values for every story published.