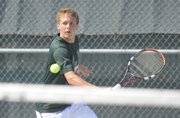 Fatigue, apparently, is not a force to which the Free State High boys tennis team easily succumbs.
Less than 48 hours after a marathon tournament in Goddard, during which the Firebirds left Lawrence at 5 a.m. Saturday and didn't return until 8 that night, the team looked far from weary in rolling past visiting Lawrence High, 8-1, during Monday afternoon's duel.
"It was a long, long, long day," Free State coach Oather Strawderman said of Saturday's competition. "(Today) wasn't a direct turnaround, but it was a pretty quick turnaround for these kids."
It was hard to tell by watching, however.
Things started well for the Firebirds, who opened play Monday by taking each of the three doubles matches against the Lions, and continued that way into singles.
Dravid Joseph (No. 1), Andrew Craig (No. 2), Chris Helt (No. 4), Luke Cortese (No. 5) and Jack Hearnen (No. 6) earned singles victories for the Firebirds, a team trying to duplicate last year's regional championship despite the loss of a handful of talented seniors.
And with the exception of some occasionally tentative play, players left feeling satisfied with the outcome.
"We got the wins, which is what's important in the end," said Joseph, who beat LHS's Byron Varberg, 8-6.
Added Strawderman, "Coaches are always going to find things to nit-pick and correct. But overall, I think we had a pretty good day."
In doubles, Jospeh and Craig teamed to beat Varberg and Connor Schmidt, 8-4; Patrick Carttar and Helt topped Ilan Rosen and Michael Sang, 8-3; and Cortese and Hearnen defeated Nick Dunkle and Nick Jaimez, 8-2.
With the victory, Free State takes a 12-7 lead in the World Company Cup standings.
Rosen was the lone Lions player to finish with a victory, edging Free State's Carttar, 8-5, in No. 3 singles to prevent a Firebirds sweep and display a bit of the consistency LHS coach Chris Marshall hopes his team can establish in the coming weeks.
"Right now, we're still trying to figure out what our strengths are," Marshall said. "... We had some really good points. Unfortunately, we didn't put four or five points in a row together."
Copyright 2018 The Lawrence Journal-World. All rights reserved. This material may not be published, broadcast, rewritten or redistributed. We strive to uphold our values for every story published.