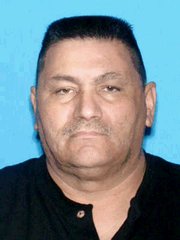 The Brown County Sheriff is seeking the public's assistance in locating Charles "Moby" Finch.
Mr. Finch is a 50 year old Native American male from the Kickapoo Reservation. He is six feet tall and weighs 270 lbs. Mr. Finch was last seen on March 9, 2010 at the Kickapoo Health Center on the Kickapoo Reservation. He has many acquaintances in Brown County, Douglas County and Lyon County, Kansas.
The sheriff's office is seeking any information as to the whereabouts of Mr. Finch. Mr. Finch is not wanted by law enforcement he is missing and has not had contact with friends or family since March 9th.
Anyone with information should contact your local law enforcement agency or the Brown County Sheriff at 785-742-7125.
Copyright 2017 The Lawrence Journal-World. All rights reserved. This material may not be published, broadcast, rewritten or redistributed. We strive to uphold our values for every story published.