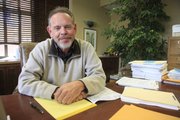 Frazzled by taxes?
Stressed out trying to get them completed by Thursday?
Then you'll find it hard to contemplate that people like Randy Kahn actually enjoy working on taxes. He does it professionally; in fact, he's been doing it for well over 30 years.
Kahn's family became involved in the tax business in the '40s, when fellow farmers asked his grandpa Fred to help them with their tax returns.
"Grandpa was city treasurer for Lawrence, so his buddies reckoned he'd be good at handling money and figures," he says.
"After a while grandpa decided to open a bookkeeping business, and it's been in the family ever since."
Kahn was born in Kansas City in 1953 and attended DeSoto schools, where his mother was a teacher and his father an accountant for Phillips Petroleum. The family moved to Lawrence in 1967 when his father took over his grandfather's bookkeeping business. Kahn attended Central Junior and Lawrence High schools, enrolled at Kansas University for a short time, but decided to join his father's business.
"It just seemed like the right thing to do, and I haven't regretted it," he says.
When his father became ill in 1977, Kahn continued the business. It's now known as Kahn & Associates Inc., has grown steadily over the years, and has two other full-time accountants, including his wife and business partner, Marilyn, "the love of his life." The office has been at 123 W. Eighth St. since 1993. The business operates year-round and help clients in all areas of taxes, banking, estate and trust management, accounting payrolls, and other aspects of family businesses.
Kahn admits it can be tough working 16-hour days during tax season from late January through April 15, but he says things slow down after that.
"November and December are our slowest months, and this is when we update our educational and professional training," he says. "We need to keep up with changes in the tax laws in order to provide our clients with the best possible service. The biggest legislative change since I've been in the business is Code 7216. It became law in November 2009 and requires us tax preparers to be licensed, tested and adhere to a strict code of ethics."
He says this is a good thing.
"The Internal Revenue Service, the government, the state of Kansas and our clients trust us to do a high-level professional job, so we need to keep updated," he says.
He admits many clients get stressed out during the height of the tax season.
"Although we mainly deal with finances and figures, we put people first. We need to listen, help and reassure people, and be a buffer between them and the IRS when required," Kahn says.
"We've taken many families from their first tax return and through several generations and know their stories. Our clients trust us to get things right, and it's important for us to give them our very best and never betray the trust placed in us. I feel blessed and humbled to be part of their lives."
Copyright 2018 The Lawrence Journal-World. All rights reserved. This material may not be published, broadcast, rewritten or redistributed. We strive to uphold our values for every story published.