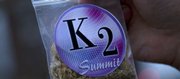 Lawrence is a focal point for the current debate in the Kansas Legislature about banning the active ingredient in an herbal substance known as K2. Follow the debate and the progress of the Kansas bills here.
Oskaloosa — The Jefferson County Attorney's office has dismissed all criminal charges against the owner of a botanical plant distribution warehouse that was at the center of the K2 controversy.

Lawrence resident Jonathan Sloan, owner of Bouncing Bear Botanicals in Oskaloosa, was arrested in February and charged with eight felony drug offenses, including the unlawful manufacture and distribution of controlled substances.
The arrest came after federal, state and local authorities raided Sacred Journey, 1103 Mass. in downtown Lawrence, seizing the marijuana-like substance K2.
Sloan's warehouse, which supplied Sacred Journey with K2 and a number of other herbal products, was also raided.

Investigators seized more than $700,000 in cash from the business and bank accounts and took several items from the warehouse, including thousands of cactus plants and 20 toads.
Sloan was scheduled to appear in Jefferson County court for a preliminary hearing in the case on Tuesday. Sloan did not return calls seeking comment.
Jefferson County Attorney Caleb Stegall said while the charges are dismissed, the investigation is on-going.
"My office expects to refile charges if they are warranted once the investigation is complete," Stegall said.
Bouncing Bear Botanicals is back in operation, according to the business's Web site. The warehouse, located on Hwy. 59 north of Lawrence, is one of the largest suppliers of ethnobotanicals in the country.
Copyright 2018 The Lawrence Journal-World. All rights reserved. This material may not be published, broadcast, rewritten or redistributed. We strive to uphold our values for every story published.