Kansas City, Mo. — Boston's five home runs would seem insignificant if a certain line-drive single had twisted a couple of inches to the left.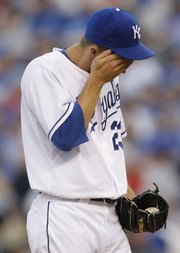 That ball would have smashed into Josh Beckett's head instead of merely grazing the back of his noggin during an 8-3 victory Saturday night over Kansas City.
"I've had some line drives hit back at me and stuff. I've been hit in the legs before," said Beckett, who was making his first start since signing a four-year, $68 million contract extension. "But never anywhere else."
Jeremy Hermida and Jason Varitek homered on consecutive pitches from Zack Greinke, and the Red Sox went deep five times altogether while stopping a three-game losing streak.
Varitek added a second homer, and Kevin Youkilis and Dustin Pedroia also connected, helping Beckett remain unbeaten against Kansas City.
It was in the seventh when David DeJesus whistled a single up the middle that brushed the back of Beckett's head.
He made sure the near disaster did not rattle him.
"I was thinking about how many runs we were going to score," said Beckett (1-0). "It didn't hit me very hard. I wasn't too worried about it."
Beckett allowed three runs and nine hits in seven innings. He had one walk and four strikeouts while beating the Royals for the fifth straight start. In eight career starts against the Royals, Beckett is 6-0.
Greinke (0-1) had a 1-0 lead after four, but Hermida hit a 1-1 pitch leading off the fifth for his first home run. Varitek then slammed Greinke's next delivery into the Royals bullpen, marking the first time in Greinke's career the right-hander had allowed home runs on consecutive pitches.
"Those were just two bad pitches," Greinke said. "I hope they take it, but they both swung at it. Those were as good as pitches to hit as they'll ever see again."
Varitek, making his first start of the year, homered off Luis Mendoza in the ninth. Three batters later Pedroia hit a two-run
Copyright 2018 The Associated Press. All rights reserved. This material may not be published, broadcast, rewritten or redistributed. We strive to uphold our values for every story published.