Bangkok — Anti-government protesters said today they would not negotiate an end to violence in the Thai capital after savage clashes between activists and soldiers that killed at least 18 people and injured hundreds.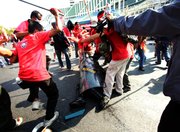 Thousands of "Red Shirt" protesters swarmed back into an area that had briefly been taken by government forces Saturday night. Bullet casings, rocks and pools of blood littered the streets as protesters showed off a pile of weapons captured from the troops, including rifles and heavy caliber machine-gun rounds.
"There is no more negotiation. Red Shirts will never negotiate with murderers," a key protest leader, Jatuporn Prompan, announced from a makeshift stage. "Although the road is rough and full of obstacles, it's our duty to honor the dead by bringing democracy to this country."
Hopes had been expressed that the two sides would come to the negotiating table after the worst violence in Bangkok since four dozen people were killed in a 1992 antimilitary protest.
Late Saturday, army troops pulled back and asked protesters to do the same, resulting in an unofficial truce.
Five soldiers and 13 civilians, including a Japanese cameraman for the Thomson Reuters news agency, were killed, according to the government's Erawan emergency center.
Thai television showed Red Shirts parading some soldiers they said were captured by the protesters. It wasn't clear how many soldiers they held, or what their status was this morning. The government did not disclose how many protesters had been detained.
Arrest warrants previously were issued for 27 Red Shirt leaders, but none is known to be in custody.
Editorials in Bangkok newspapers today called for urgent talks between the government and so-called "Red Shirts," noting some protest leaders were ready for negotiations.
The violence erupted after security forces tried to push out demonstrators who have camped in parts of the capital for a month and staged disruptive protests demanding that Prime Minister Abhisit Vejjajiva dissolve Parliament and call new elections.
The demonstrations are part of a long-running battle between the mostly poor and rural supporters of former Prime Minister Thaksin Shinawatra, and the ruling elite they say orchestrated the 2006 military coup that removed him from power amid corruption allegations.
Saturday's violence and failure to dislodge the protesters are likely to make it harder to end the political deadlock. Previously, both sides had exercised considerable restraint.
Copyright 2018 The Associated Press. All rights reserved. This material may not be published, broadcast, rewritten or redistributed. We strive to uphold our values for every story published.