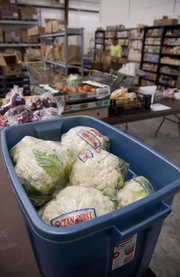 As you plan and plant your garden this year, think about planting an extra row of fruits or vegetables to donate to area residents who need it.
The Just Food/ECKAN Food Bank at 1200 E. 11th St. makes it easy to get extra produce where it needs to go. You can drop off fresh produce and other food at the food bank from 9 a.m. to noon and from 1 p.m. to 4 p.m. Monday-Friday.
The food bank, which just opened last year, gives people a central location to drop off items that can then be re-distributed among various agencies in Lawrence and Douglas County. It also has a cold storage facility to make perishable fruits and vegetables last just a little bit longer.
"Whether it's two tomatoes or five bushels of zucchini, every little bit helps," says Cindy Haines, a Douglas County resident and Master Gardener. "It's a gesture to the community that we care."
Haines led an effort in 2009 with fellow Master Gardeners to distribute excess produce from area farms and the Downtown Lawrence Farmers' Market. In the project's first year, Master Gardeners delivered thousands of pounds of would-be-discarded produce to local agencies.
"It just grew out of a frustration of letting good food go to waste when we knew there were people in Douglas County who would appreciate it," Haines says. "We saw a need and tried to fill it."
She also jokes about having to find something to do with the extra zucchini from her garden once her friends and neighbors started locking their houses and cars.
With a central drop-off point and an established network, Haines is asking those who can to think about contributing.
"We can put our talents as gardeners to good use."
Plant A Row for the Hungry is a nationwide initiative that originated in 1995. Many gardeners already grow more than they can consume, so the program encourages gardeners to donate any excess fruits and vegetables.
Haines identified a second need as she delivered truckloads of fruits and vegetables to local agencies last year.
"We would bring the produce in, and a lot of times people didn't know how to prepare it or felt like it would be too difficult to prepare."
She also shared stories of adults who didn't know what cantaloupes were or what to do with a cucumber. Haines approached the Master Food Volunteers to develop simple recipes and tips for preparation and usage of fresh fruits and vegetables. The volunteer group is hoping to have this information available alongside the produce later this year.
Haines and her fellow Master Gardeners also serve as mentors and assist with the establishment of gardens for community and nonprofit organizations with the intention of making fresh, local food more accessible to all residents.
Jennifer Smith is the Horticulture Extension Agent for K-State Research and Extension in Douglas Count. Contact her or an Extension Master Gardener with your gardening questions at 843-7058.
Copyright 2018 The Lawrence Journal-World. All rights reserved. This material may not be published, broadcast, rewritten or redistributed. We strive to uphold our values for every story published.