Moscow — The plane crash that killed Polish President Lech Kaczynski on Saturday gutted a nation's leadership and silenced some of the most potent human symbols of its tragic and tumultuous history.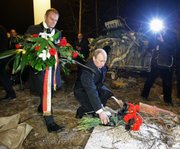 It was, literally, a nation colliding with its past: The plane ran aground on a patch of earth that has symbolized the Soviet-era repressions that shaped much of the 20th century, near the remote Russian forest glade called Katyn where thousands of Polish prisoners of war were killed and dumped in unmarked graves by Soviet secret police in 1940.
The toll cut a swath through Poland's elite. Along with the president, the 97 dead included the army chief of staff, the head of the National Security Office, the national bank president, the deputy foreign minister, the deputy parliament speaker, the civil rights commissioner and members of parliament.
"The contemporary world has not seen such a tragedy," said Polish Prime Minister Donald Tusk, who called for two minutes of silence at noon today.
In Warsaw, people placed flowers and lit candles outside the presidential palace.
Flying on a 26-year-old, Soviet-designed plane, these iconic Polish figures were headed to a Catholic Mass to honor the 70th anniversary of the deaths at Katyn.
Copyright 2018 The Lawrence Journal-World. All rights reserved. This material may not be published, broadcast, rewritten or redistributed. We strive to uphold our values for every story published.