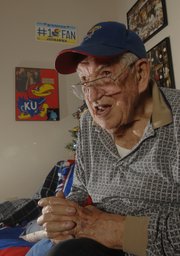 Lawrence resident Bob Nelson, who died Friday at age 88, wasn't officially a spokesperson for Kansas University athletics, but he sure played the role, friends said.
While working in the KU continuing education department for more than 30 years, Nelson's enthusiasm for KU made an impact on out-of-town visitors.
"He'd be handing out season schedules," said longtime friend and colleague John Novotny. "Some of them would even buy season tickets."
Nelson's love for KU sports earned him several nicknames through the years.
"We called him The Old Jayhawk," said Howard Mossberg, retired dean of KU's School of Pharmacy.
And Nelson relished his distinguished fan status. He was rarely without a KU hat, a blue sport coat, and a red-and-blue Jayhawk tie.
"You'd never miss him," Novotny said of Nelson's regular attire. "His life was KU and the athletic department."
In 2007, at the age of 85, Nelson accomplished one of his lifelong goals, receiving a general studies diploma from the university he's always loved.
"This is the thing that he would cherish more than anything else — to have a degree from the University of Kansas," said Don Fambrough at the time. Fambrough, a former KU football coach, had known Nelson for years through his connection with KU sports.
One of Nelson's many missions through the years was forming a closer bond between KU faculty and KU athletics, and he would arrange weekly luncheons between the groups, Novotny said.
On those days, sometimes 100 faculty would show up to speak with a KU coach or staffer.
"He was exceptionally unselfish," Novotny said. "He was always doing something positive."
Copyright 2018 The Lawrence Journal-World. All rights reserved. This material may not be published, broadcast, rewritten or redistributed. We strive to uphold our values for every story published.