Photo Gallery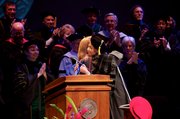 KU Chancellor Inauguration
During her installation ceremony Sunday, Kansas University's 17th chancellor looked to the future, making reference to some specific reforms she'd like to see at KU.
Bernadette Gray-Little became KU's chancellor in August after taking the reins from Robert Hemenway.
Gray-Little stayed on themes she has frequently repeated since becoming chancellor, including raising KU's graduation and retention rates and increasing its research profile.
"Just as KU evolved from a single building with three professors, it must now continue to grow and change," Gray-Little said. "That change is required to adapt to new technologies, new budget realities and new expectations, from our students and their future employers and from society as a whole."
She outlined some specific examples of how KU could accomplish her goals — for instance, an early warning system that identifies students who are struggling academically, enhanced financial aid opportunities and ways for students to better track their graduation progress online.
One area of the KU campus is already achieving success, she noted.
"Kansas Athletics has shown how academic support programs can lead to increased success by students, many from challenging backgrounds and all with tremendous demands on their time," she said.
Gray-Little focused on other elements of her plans for KU, including a plan to better catalogue the research done at KU so it can be compared with other major research universities.
The ceremony itself featured many robed members of the KU administration and faculty, along with representatives from 39 universities and professional societies, including Harvard and Yale. An estimated crowd of nearly 1,000 people witnessed the event.
This year, members of the KU community had designated hours of community service in honor of the new KU chancellor, and the Semester of Service project surpassed its 100,000 hour goal on Sunday morning.
State, higher education and KU representatives took turns praising Gray-Little, and helped officially welcome her into the KU community.
Kansas Gov. Mark Parkinson said Gray-Little has "attacked this job," and supported her priorities for KU.
"She has a plan to take this from being a great university and make it an excellent one," Parkinson said.
Other dignitaries in attendance included several members of the Kansas congressional delegation, U.S. Health and Human Services Secretary Kathleen Sebelius and Kansas Board of Regents Chairwoman Jill Docking.
Former KU Chancellors Hemenway, Del Shankel and Archie Dykes also attended the ceremony.
James Moeser, a chancellor emeritus of the University of North Carolina-Chapel Hill who hired Gray-Little as provost at the university, said Gray-Little was on the search committee that hired him as chancellor there.
"I recall the precision of her questions, and even more the intensity of her listening," said Moeser, who spent 20 years of his career at KU as a faculty member and a fine arts dean.
He said Gray-Little drew all the toughest assignments at UNC because of her ability to defuse conflict by listening to all sides of a disagreement and being able to reach a compromise.
"She never failed in one of those tough assignments," Moeser said.
Gray-Little didn't shy away from the difficulty of many of her priorities for KU on Sunday.
"I make no assumptions that this kind of change will happen easily, or that it will happen quickly," Gray-Little said. "But we can be under no illusion: Change is necessary if KU is to truly prepare students for successful futures."
Copyright 2018 The Lawrence Journal-World. All rights reserved. This material may not be published, broadcast, rewritten or redistributed. We strive to uphold our values for every story published.