Hutchinson — Ralph Thrash was 15 years old and a high school sophomore when he bought the 1950 Ford, a two-door sedan with a windshield sun visor and rear wheel fender skirts.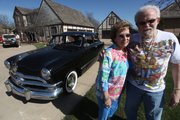 More than five decades later, the same car, glistening with a fresh coat of black paint, and with the original fender skirts and wide sun visor, claims a special garage spot at Ralph and Joan Thrash's Hutchinson home.
"I've been looking for it for over 10 years," Thrash said.
Ralph and Joan Thrash married two years after he bought the car; they were 17 and high school seniors. They kept it until 1958 when they traded it in on a new Plymouth.
The idea that he might find the same car came after an Oklahoma nephew located a Corvette he'd had in high school. A family member helped him track the two-door Custom Ford through a tag search.
It was traded to a Kansas City owner and went to Kalamazoo, Mich., where it sat on a showroom floor for 10 years. That owner sold it to a friend who kept it another 12 years.
Joan and Ralph met at the Emporia Avenue Church of Christ in Wichita. He attended West High and she was at East High. "At that time not too many people at his age had their own car," she said.
It was nice having a boyfriend with transportation. "I'm sure I thought it was snazzy," Joan said.
Ralph's vehicle ownership started when he bought a motorcycle with money he earned as a grocery store carry out. He was riding the bike when a car hit him, broke his leg and put him in a cast for 16 weeks. He was ready to ride again when his parents told him if he wouldn't get another motorcycle, they'd buy him a car. "That was music to my ears," he said.
The insurance company awarded a $2,600 claim, which paid the $1,000 hospital bill and left enough to buy the Ford.
Through the years, even though he's owned nearly three dozen vehicles, he never forgot the first one. With only the license tag and a picture, not even the VIN number, a computer search located the two-door Custom Ford in Kalamazoo, Mich.
Thrash bought it and sent a driver with a trailer to Michigan. He began a year-long restoration project, took it apart piece by piece, ordered custom-built headliner, reupholstered the seats, and added seat belts.
He and Joan take it to car shows with the Salt City Cruisers or for an occasional Sunday drive. That brings back old memories.
"I kid her about when we first met, she was with a girlfriend and met me and two of my buddies," Thrash said. "I flirted with her."
She later called her friend, trying to straighten out the names of the three boys and their cars: a 1940, '49 and a '50.
She identified him as the one with the 1950 Ford.
"I kid her, tell everybody the way she picked me was, she picked the guy with the newest car," Thrash said.
Copyright 2018 The Lawrence Journal-World. All rights reserved. This material may not be published, broadcast, rewritten or redistributed. We strive to uphold our values for every story published.