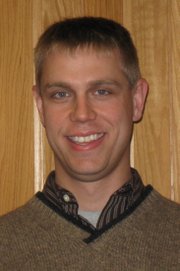 First Baptist Church will be installing its new pastor, The Rev. Matt Sturtevant, at 3 p.m. today at the church, 1330 Kasold Drive. A reception will follow the ceremony.
Before being called to First Baptist, Sturtevant, 33, was an associate pastor for seven years at the First Baptist Church of Topeka. The Kentucky native comes to Lawrence with his wife, Kimberly and two children, daughter Addison, 6, and son Ethan, 2.
Sturtevant says he believes his new congregation is an outgoing one, not intent on sitting still, which he says is in line with his ministerial style.
"As I talked to the search committee and as we continued in conversations, it was clear that this was not a church that was waiting for a pastor to tell them what to do. Instead, it was a church that said, 'If you're going to be involved here, you're going to be involved in your own sense of calling, your own sense of ministry,'" he says. "And so, I see my job as helping to clarify that calling. Helping to explore that calling, helping to inspire folks toward that. It really seemed like a good fit in terms of kind of the way I hope to do ministry and the way folks here were already doing ministry."
Copyright 2018 The Lawrence Journal-World. All rights reserved. This material may not be published, broadcast, rewritten or redistributed. We strive to uphold our values for every story published.