Cody Kukuk probably tied an all-time baseball record Thursday night.
Kukuk walked four Shawnee Mission Northwest batters in one inning, yet the Cougars didn't score, and Free State High hung on for a 2-0 home-opening victory.
"I've never done that before," said Kukuk, a junior left-handed pitcher about his fifth-inning bout with wildness.
Photo Gallery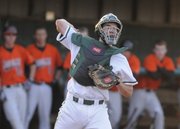 Free State baseball vs. Shawnee Mission Northwest
The Firebirds beat the Cougars 2-0.
Kukuk walked the first batter, then enticed a comebacker that he turned into a 1-6-3 double play. But then Kukuk proceeded to give free tickets to the next three Cougars before coach Mike Hill came with the hook.
"Obviously," Hill said, "he started losing it."
Kukuk admitted a few close pitches that weren't called strikes "got into my head a little bit," but he refused to hide behind that excuse.
"I need to go at batters more," Kukuk said, "and not pick around."
Junior right-hander Colin Toalson was the Houdini in the Firebirds' escape act, coaxing Cody Ball, the Cougars' clean-up hitter, into a come-backer to end the inning. Toalson, who opened at shortstop, retired six of the last seven batters, fanning three, to earn the save.
"Toalson's a bulldog," Hill said. "He came in and threw strikes, and that's what we needed."
Kukuk fanned seven and allowed only two harmless singles during his 4 2/3-inning stint and also produced the game's lone extra-base hit.
After Connor Stremel's one-out infield single in the third, Kukuk laced a screamer that rolled all the way to the right-center-field fence for an RBI triple off starter and loser Adam Giacalone.
"I knew it would be a fastball," Kukuk said of the pitch, "and I put the bat on it."
Few players on either team put much bat on the ball. Free State collected only four hits, two by Stremel, and SM Northwest managed just three singles.
Free State's other run crossed in the second thanks to a pair of hit batters, an error and Preston Schenck's sacrifice fly.
With Kukuk walking six and the Firebirds being charged with a couple of errors, SM Northwest (1-1) had opportunities, but stranded eight runners.
"You give seven or eight freebies," Hill said, "and typically you don't survive that, especially against a good team, and Northwest is one of the best teams in the league."
Free State (5-1) will continue Sunflower League competition at home Monday against Olathe South.
Copyright 2018 The Lawrence Journal-World. All rights reserved. This material may not be published, broadcast, rewritten or redistributed. We strive to uphold our values for every story published.