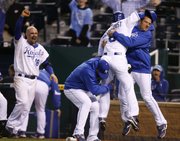 Kansas City, Mo. — Just when it looked as if another great effort from a Royals starting pitcher was going to be wasted again, Alberto Callaspo came through.
Callaspo hit a tying homer to lead off the bottom of the 11th inning, and pinch runner Willie Bloomquist scored on an error to give the Kansas City Royals a 3-2 victory over the Detroit Tigers on Wednesday night.
"We felt like we were in the driver's seat Monday and let it slip away, and then we were in the driver's seat again tonight," Chris Getz said. "If we had let it slip away, we would have bounced back, but it would have been more difficult."
On opening day, the Zack Greinke outdueled Detroit's Justin Verlander, and Kansas City led, 4-2 after six innings, but the bullpen blew the lead and the game.
On Wednesday night, neither bullpen did well.
After Callaspo's shot off Jose Valverde (0-1), Billy Butler singled and Bloomquist ran for him. He stopped at third on Rick Ankiel's double to right-center, but went home when rookie second baseman Scott Sizemore dropped the relay throw.
"Valverde has pretty much been automatic," Tigers catcher Alex Avila said. "That happens. That's part of the game. Callaspo laid off some really good pitches and had a great at-bat and was able to get hold of one and put it in the right spot in the ballpark. The ball wasn't really carrying today, but that corner, from Miggy's home run, it was."
Miguel Cabrera homered to right field off Joakim Soria with two outs in the ninth inning after a 10-pitch at-bat to tie the score at 1. Carlos Guillen hit an RBI single in the top of the 11th to put Detroit ahead.
Kyle Farnsworth (1-0), the fifth Kansas City pitcher, gave up singles to Magglio Ordonez, Cabrera and Guillen to start the 11th.
Luke Hochevar, the first overall pick in the 2006 draft, threw 72⁄3 scoreless innings, holding the Tigers to five hits.
Hochevar, who was 1-10 in his final 13 starts last season, gave up five hits, including a wind-blown triple to Austin Jackson with two out in the third. Hochevar struck out Johnny Damon to strand him.
"Those conditions were kind of rough," Hochevar said. "Once the rain stopped, it was fine. Growing up in Colorado, I had to learn how to pitch in cold weather, so it doesn't bother me."
Copyright 2018 The Associated Press. All rights reserved. This material may not be published, broadcast, rewritten or redistributed. We strive to uphold our values for every story published.