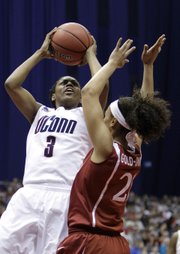 San Antonio — Every basket built their streak, every romp enriched their legacy.
From the first shot of the season, it seemed inevitable that Maya Moore, Tina Charles and the Connecticut Huskies would win the NCAA women's basketball championship.
And so they did Tuesday night, rallying from a horrible first half to beat Stanford, 53-47, for their 78th straight victory and stamp themselves as one of the most dominant teams ever — in their sport or any other, men's or women's.
Held to only five points through the first 12 minutes and trailing 20-12 at the break, coach Geno Auriemma's team bounced back and played like champs.
"We knew a run was coming," said Maya Moore, the tournament's outstanding player. "We settled down and hit some big shots."
Did they ever. UConn surged to start the second half, bolting to an 11-point lead.
Moore scored 23 points and grabbed 11 rebounds to help Auriemma win his seventh national championship, moving within one title of Pat Summitt and Tennessee. He's never lost in the title game.
"This one was by the far the hardest and most difficult," Auriemma said. "Not because of what we went through, but we played a great team and they had a great game plan. It took everything we had to beat that team."
The Huskies (39-0) are the first team ever to have consecutive unbeaten seasons, but that doesn't cover it.
They've been unstoppable over the past two years, winning every game until Tuesday night by double figures, and passing their own NCAA women's Division I record of 70 straight wins set from 2001-03 in early March. The championship victory put them within 10 of the vaunted 88-game winning streak set by the UCLA men in the early 1970s.
Charles added nine points, 11 rebounds and six blocks. The senior and Auriemma shared an embrace after the final buzzer.
Stanford (36-2) played a nearly flawless defensive first half, holding UConn to 12 points — the lowest ever in a championship game and the lowest in school history.
But then Moore and the Huskies took over.
"I've never been prouder of a group of young people," Auriemma said.
Copyright 2018 The Associated Press. All rights reserved. This material may not be published, broadcast, rewritten or redistributed. We strive to uphold our values for every story published.