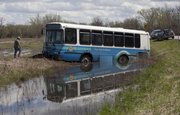 A Lawrence Transit bus found itself in a ditch near the East Hills Business Park Wednesday afternoon.
According to a spokesperson for the T, who was at the scene, the bus was heading for Vangent in the East Hills Business Park when it left Noria Road and ended up in the ditch.
The spokesperson said no passengers on the bus were injured and that they walked to Vangent.
Noria Road was shut down at Kansas Highway 10 in an effort to get the bus out of the ditch.
Copyright 2018 The Lawrence Journal-World. All rights reserved. This material may not be published, broadcast, rewritten or redistributed. We strive to uphold our values for every story published.