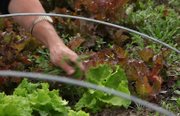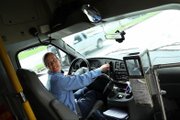 Natalya Lowther is living her dream.
She has a 12-acre farm with sheep, vegetables and a stable of young, enthusiastic, wannabe farmers to help her with her myriad of chores. She's even got an idyllic name for her little piece of Old MacDonald's legacy: Pinwheel Farm.
It's a name she dreamed up while an undergrad working on a mock-farm project for class. And it stuck. Today's she's living the plan she thought up so many years ago.
Except for one small detail.
To be a full-time farmer, she must be full-time at something else.
Bills, health insurance, crop failure and input investments aren't something housed in Old MacDonald's little red barn, but in real life, it's nearly impossible to be a full-time farmer without them.
They are the stubborn bits of reality standing between Lowther and what she's been working toward since she was a teenager yearning to live in a cabin and raise sheep. Instead of that reality, she both tends to her land and suits up for her "day job" driving buses for the city.
Pinwheel Farm — Lawrence, Kansas
"I work afternoon shift," she says. "I have lots of time to get up in the morning, do chores, see what hijinks the livestock cooked up for me overnight. It gives me time to really focus on the farm first, and then at noon, I have to start turning into a bus driver five days a week."
The back-to-back jobs make for exhausting days, especially this time of year when the foundation is set, seed after seed, for the growing season. But the double duty is also necessary to pay not only for her two mortgages, but to account for all the in-and-out costs on the farm.
"For me, I want to be able to say that it is possible to farm sustainably, without grant money, without borrowing land from someone else. That it can be economically viable, on a level playing field with any other business," Lowther says. "I'm not there yet, but I'm going to be."
Growing up to grow
Lowther grew up the daughter of biologists who had the habit of reading bird identification books to their children rather than Dr. Seuss or "Goodnight Moon." That education extended to plants, but not in a formal way.
"We never had big, organized gardens, but we were always putting seeds in the ground and watching them grow," says Lowther, 51.
By the time she was out of high school, she knew she wanted to farm and honed skills with hands-on training on friends' land, where she would offer to carry water and do other back-breaking jobs just for the chance to figure out how things worked.
Eventually, she cobbled together a college education at Kansas State, where her class load included a session taught by a professor with ties to the bastion of organic farming, the Rodale Institute. Included in that class was an assignment to form a business plan for a 20-acre farm. Lowther modeled her farm after the one she'd had in her head for years - with livestock and plants living in perfect harmony.
But then reality crept into her vision, one nagging piece at a time.
"As a young adult, I figured out, 'Oh, there are bills' - I can't even pay rent, let alone get a loan to buy land," Lowther says. "I began to realize my ignorance as it applied to my dream."
She took an office job and got on with her life. It wasn't until she bought an acre of North Lawrence land that the tools necessary to create her vision suddenly ended up in her hands. That is, a neighbor offered to sell her and her then-husband 10 acres of land, with the alternative being a sale to a developer keen on plopping a warehouse on top of the high-quality soil.
"I'd sort of given up on the dream in a way, it was still an interest, but it wasn't something I was diligently working towards, because I didn't think I could ever get there. But then this land fell into our laps," says Lowther, who later acquired another acre to make Pinwheel Farm 12 acres total. "And it's like, 'Oh wait a second, I have this business plan that I wrote for class a couple of years ago. Let's see what that looks like.'"
Making it work
What it looks like now is a delicate balance of inputs and outputs.
"There's always the challenge of, I have to purchase my inputs and then it's anywhere from two to six months later that I'm getting the return from that investment. But when I'm putting in those inputs, it's not just purchasing the inputs, but that's when I have to put the labor in," Lowther says. "Right now is the high labor time and the low money time and the high input cost time."
Those inputs include seeds, hay and her time, which may be at more of a premium than anything she purchases. This year she would love to triple her output from last year, providing vegetables and meats for a handful of wholesale commercial buyers like Lawrence Memorial Hospital and WheatFields Bakery and Cafe as well as satisfying her customers when the Farmers' Market opens for 2010 this Saturday.
All that production means Lowther is reliant on a cadre of volunteers to make sure Pinwheel Farm doesn't stall out.
"We have a team that kind of coordinates with themselves to make sure that the afternoon chores are covered every day," says Lowther, who often sends volunteers away with food. "I leave notes and we try to get together when we can to do some training and stuff."
That team consists of people like Katelyn McGill, a Kansas University senior, who found Lowther while looking for experience that could aid her during a Peace Corps tour after graduation. McGill does afternoon chores, and seems sure that she gets more out of her end of the bargain than Lowther.
"I learned more about sheep in probably the first 15 minutes that I spoke with (her) that I had learned in my whole life," McGill says. "It's been a great learning experience."
Event
Downtown Lawrence Farmers' Market
Where: Farmers Market (8th and N.H.), 8th and New Hampshire streets, Lawrence
Age limit: All ages
Cost: Free
-->
-->
Lowther hopes that in allowing others to get experience on her farm, to see how it works rather than just make up guesses based on Old MacDonald, that people like her will accomplish their dreams - or at least get as close as possible. It's a mission she takes very seriously as a woman who finds farming brings her closer to God with each sprouting seed.
"One of the things that I do with new volunteers and stuff is say, 'OK, quick, before you learn anything, write down your dream.' Just write it, as it is in your head, without thinking of whether it's real or not, just write it down and then put it away," Lowther says. "And someday you'll have that there to come back to and see how that has manifested in your life.
"Because it can. And I'm living proof. And this farm is living proof."
Copyright 2018 The Lawrence Journal-World. All rights reserved. This material may not be published, broadcast, rewritten or redistributed. We strive to uphold our values for every story published.