Photo Gallery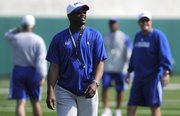 KU spring football practice for April 5
The Kansas University quarterback listed last in alphabetical order on the roster might have played his way into first on the field.
Though no official depth chart was released, KU coach Turner Gill spoke glowingly about red-shirt freshman Jordan Webb at Monday's practice.
"He's been consistent," Gill said of Webb. "He has great command in the huddle. I like his demeanor. He's played smart, thrown the ball fairly well. He's got a good grasp of what we're doing."
Webb's was the first name out of Gill's mouth when the coach rattled off a short list of players who stood out during the first week of spring ball. Considering Webb is competing for the starting quarterback job with five other guys, that's no small feat.
Asked what he thought might have caught Gill's eye, Webb hardly sounded like a player who believed the job was done.
"Everything's moving kind of fast, learning this new offense," Webb said. "But it's fun. We're all out here having fun. We all have our strengths, and whoever wins the job is going to give us a good chance to win a lot of ballgames."
Webb, 6-foot, 200 pounds, from Union, Mo., listed throwing and play-making as his strengths.
"I'm definitely a pass-first-type quarterback," he said. "But if I have to tuck the ball and run, I will. There's a lot of stuff (the coaches are watching). But I think one thing they're really looking for is a leader."
Although Gill did not come right out and say it, it seems as if the race to replace Todd Reesing — the player many have compared Webb to — is a battle between Webb and sophomore Kale Pick. At least for now.
Monday, Gill barely mentioned red-shirt junior Jacob Morse and basketball-player-turned-football-hopeful Conner Teahan. He didn't mention junior-college transfer Quinn Mecham at all, and threw Webb, Pick and freshman Christian Matthews into the category of QBs soon to get more reps.
"Things could change," Gill said. "But all three of those guys bring something a little different. They all have talent, and we feel like they're guys who could do some good things for us. (They) would be the three guys who get more reps than the other guys at this particular time."
As for Pick, it's not the number of reps that he's worried about.
"You can't," he said. "You can't count the reps, you gotta make each rep count."
For now, that seems to be the focus of all of KU's quarterbacks. They don't appear worried about who's ahead or who's behind. They're not so much concerned with what will happen this fall as they are with what's happening on the field today.
"It's tough to say I don't want to know (who will win the job)," Webb said. "But going through, learning all this stuff is definitely going to help. Whoever wins it is going to win it, and I think that's going to be the guy who works the hardest and is the best leader."
Added Pick about the battle: "We have fun with it. We don't take it off the field. We're all competitive, but we're all still pretty talkative to each other. It's going good."
Asked for his take on what the coaches might be looking for from the future starter, Pick did not hesitate to answer.
"Win ballgames," he said. "I don't think (Gill) cares how we play as long as we get the W on the board."
Moving pieces
Gill announced Monday that AJ Steward (wide receiver to tight end), Christian Matthews (quarterback to splitting time at wide receiver and QB) and Justin Puthoff (tight end to fullback) were in new positions.
"We're going to continue to move around guys," Gill said. "We're trying to evaluate people in all different situations, in different parts of the game, (to) see how they respond."
Who looks good?
The following players were cited by Gill for strong, consistent play during the first week: Webb, running back Angus Quigley, tight end Tim Biere, safety Olaitan Oguntodu, linebacker Justin Springer, linebacker Steven Johnson and defensive tackle Jamal Greene.
"There were some other guys," Gill said. "But over a five-day period, those are the guys who have really improved each and every day."
Copyright 2018 The Lawrence Journal-World. All rights reserved. This material may not be published, broadcast, rewritten or redistributed. We strive to uphold our values for every story published.